Education secretary Michael Gove is the subject of a petition calling for him to work in a comprehensive secondary school for a term, shortly after he called for longer school hours and shorter holidays.
Maria Rudden, a 28-year-old newly qualified teacher, is responsible for organising the Change.org petition, which has reached 5,628 signatures since its setup on 19 April.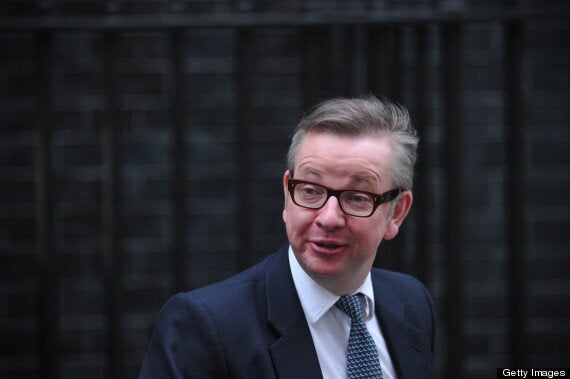 Education Secretary Michael Gove has been asked to teach in a school for a term
Writing on the petition, Rudden, who is a media and English teacher in Doncaster, says: "When I decided to begin the petition, I wanted to ask Michael Gove to come and walk in my shoes.
"The point is to demonstrate the lack of understanding he has of any of the jobs we work in across the sector."
Some of the signatories gave their reason for signing the petition, with Aston French from Ipswich writing: "[I] quit during my PGCE due to being unable to cope with the workload and the horrible ways that educational policies were damaging the most vulnerable children.
"I wasn't a 'last minute' teacher, but had been intending to be a teacher since I was about 13. The current system has been increasingly broken over the years, and it is only the efforts of some (frankly superhuman) teachers that have kept the entirely chaotic edifice in motion. I'd invite you to actually meet some of them, and call them colleagues rather than blithely dictating why they are doing things wrong."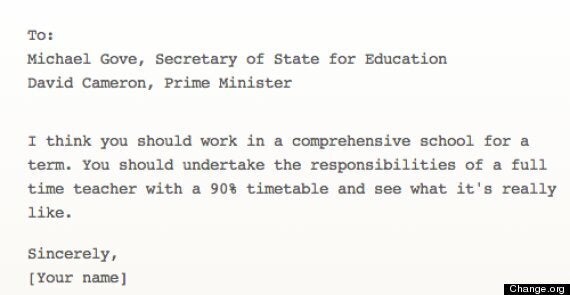 The letter to Michael Gove which more than 5,000 have signed in three days
Richie Nimmo from Manchester added: "Teachers do an incredibly difficult job under increasingly impossible conditions. Gove is transparently and embarrassingly clueless, driven not by evidence or pedagogical research, and certainly not by practical experience, but purely by arrogance and ideology."
Describing why she started the petition, Rudden says teachers are expected to carry "huge" burdens whilst being "castigated" by Gove.
"The person who is in charge of making education policy in the UK should understand what it is really like to work with young people in a state school," she says. "They need to understand what it feels like to be a full time teacher; the hours, the workload, the variety of students, the pressure to be 'outstanding' and to achieve results.
"Shaping the futures of the next generation is an incredible privilege, but also carries immense pressures. In the current climate teachers are expected to carry this burden and dedicate huge amounts of physical and emotional energy whilst continually being castigated by the education secretary."
The Department for Education has been contacted for comment but has not yet confirmed whether Gove will be taking up the offer.