A quadriplegic who has been paralysed from the chest down for nine years has learned to experience orgasms through his thumb.
Rafe Biggs lost all feeling below the waist after tumbling from a roof terrace in India in 2004.
Yet just a year after his accident Biggs found himself nearing an orgasmic-like high as a girlfriend gently massaged and sucked his thumb. Rafe Biggs says his thumb has become his 'surrogate penis'
Biggs says the digit has since become a "surrogate penis" - capable of giving him climaxes similar to those he used to experience during full intercourse.
Experts describe the phenomenon as a '"transfer orgasm", where people with paralysis experience sexual highs in other parts of their bodies.
Biggs even claims there is a difference between his two hands with his right thumb more "giving" while his left is more of a "receiver" of sexual energy.
He said: "Because I have heightened sensation in my thumbs I really enjoy erotic massage, having my thumbs sucked, and penetrating a woman with them.
"There is a medical term called neural plasticity which means the brain can retrain the nervous system through new pathways to create different behaviours.
"So essentially, I have learned to retrain my nervous system to experience orgasmic climax through my thumbs.
"When I climax the feelings that I experience are very similar to what I used to experience with genital orgasm."
Former professional psychologist Biggs was backpacking through India in April 2004 when an accident changed his life in an instant. Biggs broke his neck after falling off a roof terrace in India in 2004
He fell around 12ft from a roof, breaking his neck and leaving his spine contorted and severely bruised.
Rafe faced the rest of his life in a wheelchair as a quadriplegic with little or no use or feeling in his four limbs.
He recalled: "The first thing I thought was 'will I ever walk again?' The second thing I thought was 'will I still be able to have sex?'"
Rafe underwent spinal surgery in New Delhi before being flown back to his native Indiana in the US.
There he spent nearly a year in a rehab hospital before moving to a holistic health institute in Southern California in 2006.
He started to regain some movement in his limbs thanks to a special diet and strength programme but remained plagued by chronic pain and frustrated about the lack of feeling down below.
But one day a girlfriend treated him to a hand massage - and he realised he was starting to feel aroused.
He said: "We were just exploring around one day and she started massaging my thumb.
"I was having a one-to-one session with her when I felt this build up of energies and felt I was getting closer and closer to having an orgasm.
"When I did it was just like one wave of pleasure after another - it was just amazing.
"Having my thumb as my surrogate penis means I can experience pleasure in ways I would never have imagined."
She explained: "What Rafe is experiencing is a transfer orgasm.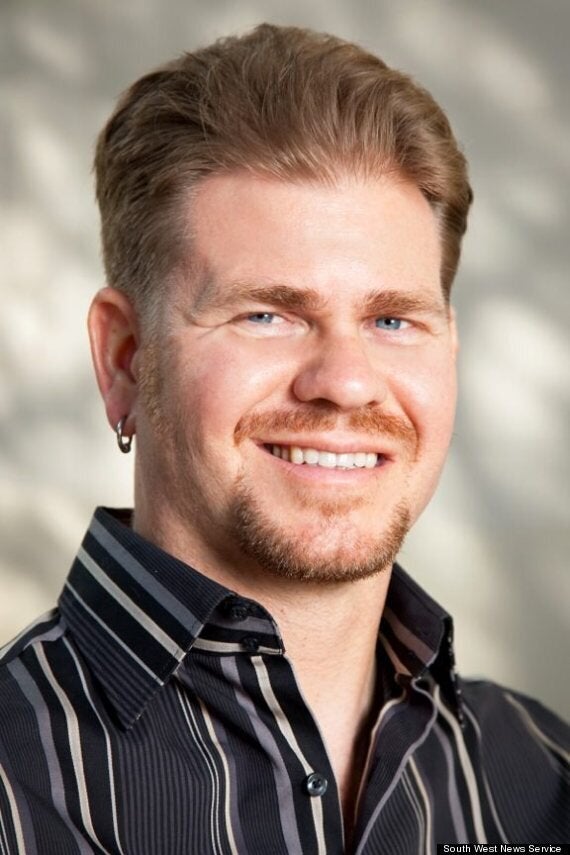 Biggs is the founder of 'Sexability' - an organisation committing to educating people with disabilities about sexuality and relationships
"That is where a person finds another place on their body that is very sensitive and gives them the same sensation as having an orgasm.
"Typically, with someone who has injuries like Rafe the brain is very malleable."
She added: "Rafe has significant reduction in pain after one of these sessions and that lasts for days - it's amazing."
Biggs said: "There's research that suggests your body is much more orgasmic than you think. It's not all in your genitals. It occurs in the brain.
"The word I use to explain my situation is neuroplasticity. After an accident the body wants to heal. Your nervous system wants to find new ways to make connections.
"I started to discover these things about myself and use my body to experience other states of orgasm.
"When I experience erotic pleasure the chronic pain I have just goes away because I'm being flooded with all of these endorphins.
"I think sex is therapeutic. It can really help people with disabilities."
Rafe, of Oakland, California, is now trying to help other disabled people regain their sex lives through his Sexability organisation.
It offers counselling to disabled people in the US and is about to expand to the UK.
Biggs, who is currently single, said: "A lot of people have this idea that those with a disability aren't interested in sex or can't have sex. It's not true.
"I'm trying to change that perception and generally support people, whatever their disability, to create intimate, loving relationships.
"Sexual energy is more than just a sensitive thing and about erogenous zones. It's more than just touching.
"Since my accident my body has changed to a whole new level. I may have lost some feeling, but I've gained feeling in a different way.
"Sex can be so much more than what we think it can be if we open our minds."