Bayern Munich battered Barcelona in what will be remembered as one of the great Champions League semi-final performances.
Goals from Thomas Müller bookended Mario Gomez and Arjen Robben's efforts for a sensational evening at the Allianz Arena.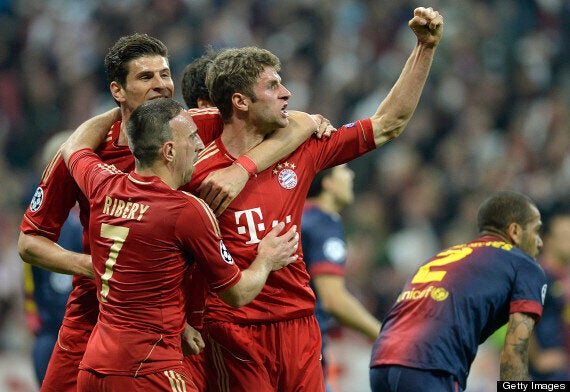 Müller celebrates his opener
It was Barça's worst defeat in all competitions since their 4-1 loss at Real Madrid in May 2008.
Barcelona may feel aggrieved at the manner of Gomez and Robben's goals, with the German striker tapping in from an offside position while Müller bodychecked Jordi Alba seconds before Robben made it three, but they were outthought and outclassed in Bavaria.
Motivated by their traumatic Champions League final defeat on home soil to Chelsea last year, Bayern have already won the Bundesliga and swatted Italy's champions-elect Juventus 4-0 on aggregate in the previous round.
Barça, meanwhile, who are destined to win the Primera Liga, have struggled against top-class opponents this campaign. They have won just once out of their six matches with Real Madrid this term and drew twice with Paris Saint-Germain in the Champions League quarter-finals, only progressing via the away goals rule.
Defensively, they have always been suspect, but teams have rarely displayed the confidence to attack them. Bayern, finalists in 2010 as well as last year, attacked with verve and overwhelmed a Barcelona defence bereft of Carles Puyol and Javier Mascherano.
Prior to Müller's opener on 25 minutes Bayern were denied two penalties by Hungarian referee Viktor Kassai, and the home supporters enjoyed unbridled schadenfreude at the manner of Gomez and the inspired Robben's goals.
Like Federer's defeat of Sampras in 2001, it felt like the changing of the guard.