Hugh Laurie could be forgiven for having a long sip on a cocktail, a big snooze on a sun lounger and the occasional phone call to check in with his accountant, following his phenomenal eight-season, Award-winning run as Doctor Gregory House.
HuffPostUK is pleased to host the exclusive livestream debut of Laurie's album 'Didn't It Rain' - click on the link above to sit back and enjoy the sounds.
But... instead, he's returned to the music studio and, following the success of his debut album which celebrated the blues of New Orleans, his new album 'Didn't It Rain' moves away from the Delta.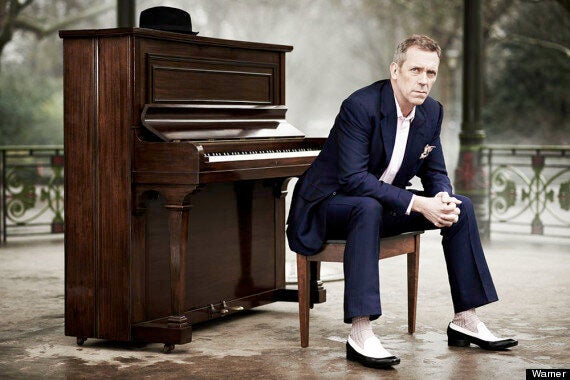 Hugh Laurie travels up the river to find sounds, music and people
'Didn't It Rain' sees Hugh Laurie following the trajectory of the blues upstream and into the American heartland. It includes songs dating back to early pioneers W.C. Handy ('St Louis. Blues') and Jelly Roll Morton ('I Hate A Man Like You') to more recent artists such as Dr. John ('Wild Honey') and Alan Price of The Animals ('Changes').
"I have resolved to forge on, deeper into the forest of American music that has enchanted me since I was a small boy," explains Laurie.
"And the further I go, the more bewitched I become - both by the songs and by the people I have been lucky enough to play them with."
'Didn't It Rain' was recorded at Ocean Way Studio in Los Angeles in January. As well as his regular Copper Bottom Band, the album also features several lead vocal performances from Guatemalan singer-songwriter Gaby Moreno and soul singer Jean McClain who has previously worked with artists as varied as Jimmy Cliff and Sheryl Crow. The album also highlights a special guest in the form of Grammy-winning blues artist Taj Mahal who contributes vocals to a new take on Little Brother Montgomery's 'Vicksburg Blues'.
Hugh Laurie will also be featuring in an ITV documentary on 5 May. 'Copper Bottom Blues' will follow the actor, writer and musician as he travels across America delving into the history of blues and roots music that has inspired his own musical journey.
As well as the album, there are tour dates to follow. Details below...
Didn't It Rain will be released on 6 May from Warner Music Entertainment. You can click here to pre-order.
13th - Bristol, Colston Hall
14th - London, Hammersmith Apollo
15th - Oxford, New Theatre
18th - Birmingham, Symphony Hall
20th - Manchester, O2 Apollo
22nd - Edinburgh, Playhouse
Tickets will go on general sale from 9am on Friday March 22nd. Priced at £40 / £35 for London and £35 / £32.50 for all regional dates, they will be available from www.livenation.co.uk.