Rebecca Hall has admitted that, however big her payday for 'Iron Man 3', she wouldn't have taken the role of scientist Maya Hansen if all she'd had to do was "run and scream" like an old-fashioned dollybird in superhero movies.
"I definitely felt that there were interesting scenes. And I really appreciated that there wasn't a terribly predictable cat fight between the two women characters," she tells HuffPostUK in London, referring to herself and Pepper Potts, played by Gwyneth Paltrow in the third instalment of the blockbuster franchise, out on Friday in the UK.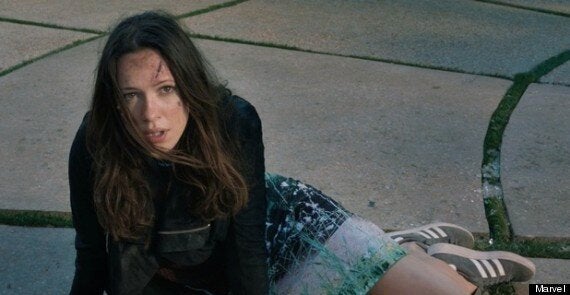 Rebecca Hall gives Robert Downey Jr a run for his money in 'Iron Man 3'
"That would have been terrible, really boring, a hackneyed situation. In these movies about strong guys, invariably if there's more than one woman, they're usually fighting over him."
Instead, Hall gets to hold her own with Robert Downey Jr, leading to scenes where she had to keep up with his improvisational style...
"It's not confrontational with Robert. There are some actors that do that, come up with something on the fly and it throws you.
"But he's a great improviser, not because he comes up with lines on the fly, but because he listens and responds and the lines that he comes up with always lead to another line from you, if you're on the ball and willing to join in and play. So it doesn't leave you frightened, it leaves you thinking, 'This is fun, I'll come up with something, too.' He's infectious, his way of riffing. I would have looked a bit foolish had I tried to emulate him, but I did want to match his brand of wit and smartness."
Hall also had to share screen time with Guy Pearce in villainous mode, a very different experience...
"He's so meticulous in detail, he's not frightened to do the things that the character requires even if it can make him look ugly, he's prepared to show every facet and be precise. It's a completely different approach... each to their own."
This is Hall's biggest film to date, although she's had a golden string of luck since she was plucked by Woody Allen to star in Vicky Cristina Barcelona opposite Penelope Cruz and Javier Bardem, an experience she still describes today as "surreal"...
"I had Woody Allen on my wall, alongside Robert Mitchum, Robert De Niro, Gregory Peck, so it was utterly surreal when ... a matter of years later, being asked to play one of his heroines, a New York neurotic, so it was bizarre."
Iron Man 3 is in UK cinemas from Friday 26 April. Watch the trailer and stills below...