The Duchess of Cornwall has dined at lavish state banquets and eaten dishes prepared by the world's best chefs but today she revealed one of her favourite foods - raw peas.
Camilla's admission came as she launched a national competition at a school in Slough, Berkshire, to encourage youngsters to grow produce for a harvest festival celebration at Westminster Abbey.
And when she continued the food theme by visiting a pensioner who was the first recipient of a new meals-on-wheels service in Surrey, she was joined by TV chefs the Hairy Bikers.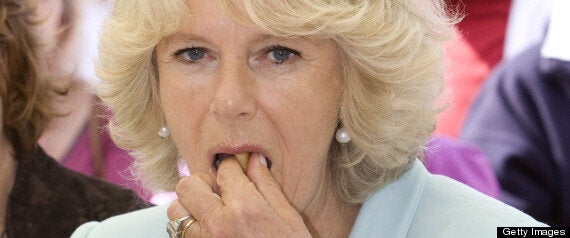 The Duchess of Cornwall eating
The Duchess revealed her love of peas when she was interviewed by a young reporter from Godolphin Junior School in Slough.
She told eight-year-old Annika Matharu, who asked her about her favourite vegetable: "I like them cooked but I tell you what I really like - eating peas straight from the garden.
"If you take them straight from the pod they are delicious and really sweet."
Her husband, the Prince of Wales, will become a grandfather for the first when the Duke and Duchess of Cambridge's baby is born in the summer but Camilla already has five grandchildren.
She told Annika: "I take all my grandchildren down to the garden and they spend hours and hours eating peas."
She laughed as she joked: "They eat and they eat until they are almost sick."