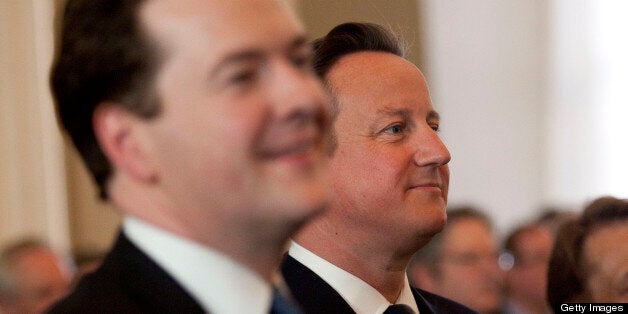 The ten things you need to know on Wednesday 24 April 2013...
And it seems most people think it's kind of rubbish. Almost half the British public expect to be worse off by the time of the next election in 2015 than they are now a survey has revealed. Polling carried out by YouGov for the Resolution Foundation think-tank found that 46% people think living standards will fall over the next two years.
Worryingly for the chancellor only one in five, or 19%, think their standard of living will improve while just over one in four (28%) expect no change. All this as George Osborne awaits the latest GDP figures that could show the UK has tipped into an unprecedented triple-dip recession.
This morning's Memo is edited by Ned Simons as Mehdi Hasan has gone into mourning over the news that JLS have split. He's a big fan.
The number of people using food banks has increased five-fold since the coalition came to power, and nearly tripled over the last year, with almost 350,000 people receiving emergency parcels from the Trussell Trust, the largest food bank provider in the UK.
From The Huffington Post UK: According to figures from the charity, 30% of people using their service over the last year were referred as a result of benefit delays and 15% because of benefit changes.
Overall, the charity helped nearly 100,000 more people than it had anticipated over the last 12 months, and expects to see many more as a result of the government's controversial welfare reforms.
Anna Soubry, who should be given credit for having an excellent way with words, has told Tory MPs plotting against Dave to sop the "twattery".
In an interview with Total Politics published today and reported here in The Guardian the public health minister said: "What we now need to do is stop people in the party engaging in quite a lot of twattery, and to accept that we've achieved a huge amount, and it's all to play for."
But Soubry also rebuked the prime minister for jobs he gives women: "I've noticed that every public health minister has been a woman, and it's been seen as the soft, girly option. It's bloody well not, it's one of the most important jobs."
"Maybe I can make people realise that this is not a soft bloody girly option, it is a big serious job. I'm a huge fan of our prime minister … but I did sit there in the cabinet room and think: 'Boss, you do know what you've just done? You've given public health to the girl again, except I'm not a girl, I'm a tough old bird.'"
Anyone who did not use that headline is a criminal. The French have legalised gay marriage. Which is very nice. French MPs didn't sing like their New Zealand counterparts did last week. But that's ok. A lot of people celebrated. Some did not.
As The Independent reports: Thousands of riot police, equipped with water cannon and tear-gas, deployed in central Paris in expectation of trouble from hard-right and fundamentalist Catholic groups.
Late last night a group of 200 hard-right youths, wearing surgical masks and leather gloves, besieged riot police lines last night after a peaceful demonstration of 5,000 people broke up on Les Invalides in central Paris.
5) FARAGE'S FRENCH LAPDANCE
Speaking of the French. Nigel Farage revealed to the Westminster press lobby yesterday that he was dragged, kicking and screaming, to a lapdancing club by a candidate for the French presidency. In a typically boisterous performance, Farage also revealed his plans to create and "earthquake" in British politics. The press, ahem, lapped it up.
BECAUSE YOU'VE READ THIS FAR...
WATCH: Fox News presenter calls US Democratic congressman Keith Ellison a 'Muslim apologist' (whatever that is).
The debate over how to treat the Boston bombing suspect continues. HuffPost reports: Sen. Lindsey Graham (R-S.C.) said Tuesday that Boston bombing suspect Dzhokhar Tsarnaev's "ties to radical Islamic thought" and his Chechen heritage should justify holding Tsarnaev, an American citizen captured on U.S. soil, as an enemy combatant.
"Here's what we're suggesting, that the surviving suspect -- due to the ties that these two have to radical Islamic thought and the ties to Chechnya, one of most radical countries in the world -- that the president declare preliminarily that the evidence suggests that this man should be treated as an enemy combatant," Graham said on the Senate floor.
"We could hold him for a period of time, we could question him without a lawyer, and none of the evidence could be used against him in the criminal proceeding," Graham said. "But that's the best way to gather intelligence."
Theresa May will make a statement in the House of Commons today following the latest blow in the long-running battle to deport hate preacher Abu Qatada from the UK.
As the Press Association reports: The Government suffered another setback in its long-running battle yesterday, but immediately vowed to continue the legal fight to remove the terror suspect to Jordan. Last month, Court of Appeal judges in London backed an earlier ruling that Qatada, also known as Omar Othman, could not be deported over fears that evidence obtained through torture would be used against him.
It was announced that the Court of Appeal has refused permission for the Home Secretary to challenge March's ruling at the highest court in the land. But the Government is to persist with its bid by applying directly to the Supreme Court for permission.
8) LORD RENNARD INVESTIGATION
Scotland Yard has launched an investigation into allegations that a Lib Dem peer sexually harassed activists. The force said officers have looked into whether there are witnesses who would speak to police and are now investigating if there is corroborating evidence to back up claims against Lord Rennard.
9) ED SAYS 'NO' TO STRIKES
Ed Miliband has said is "totally against" the general strike being proposed by the Unite union. He told ITV News: "I think it's a terrible idea… I'm totally against a general strike. We are funded by individual levy payers who are trade union members, who support the Labour Party.
He added: "But a general strike is a very bad idea for the country – I'm totally against it, I'm very clear about that."
The BBC reports this morning that rates of murder and violent crime have fallen more rapidly in the UK in the past decade than anywhere else in Western Europe.
It says: The UK Peace Index, from the Institute for Economics and Peace, found UK homicides per 100,000 people had fallen from 1.99 in 2003, to one in 2012. The UK was more peaceful overall, it said, with the reasons for it varied. It found the violent crime rate in the UK was down by about one quarter - from 1,255 per 100,000 people in 2003, to 933 in 2012.
@MichaelPDeacon PMQs is back today. So long since the last one I barely remember it. From what I recall, Kinnock came out fighting but Mrs T won on points
@Mike_Fabricant Dermal fillers for getting rid of wrinkles might be regulated. I find eating does the same thing.
@michaelrundle Can't wait to see what happens when Justin Bieber announce they're splitting up. Carnage.
Alice Thompson in The Times: "Even if he loses, Alex Salmond will still win."
Mary Riddell in the Daily Telegraph: "Ed Miliband the illusionist will have to conjure up more with less."
George Eustice on ConHome: "It's time to update our antiquated laws on political advertising."
Got something you want to share? Please send any stories/tips/quotes/pix/plugs/gossip to Mehdi Hasan (mehdi.hasan@huffingtonpost.com) or Ned Simons (ned.simons@huffingtonpost.com). You can also follow us on Twitter: @mehdirhasan, @nedsimons and @huffpostukpol
Popular in the Community