Liverpool goalkeeper Jose Reina has criticised Luis Suárez's 10-match ban for biting as "absurd, out of proportion and unfair".
The Uruguay international was handed the punishment yesterday after an independent panel decided the incident involving Chelsea's Branislav Ivanović warranted additional punishment above the statutory three-game suspension for violent conduct.
Liverpool are awaiting the detailed written report before deciding whether to appeal - they have until midday tomorrow to do so.
But fears have already been raised that Suárez, who served a seven-match ban for biting PSV Eindhoven midfielder Otman Bakkal in November 2010 immediately before his move from Ajax to Anfield, could quit England in the summer as a result of the ban.
"I consider myself a friend of Luis. He is being treated differently, I don't know if it's because he's Uruguayan or because he's had a previous episode like this...," Reina told Spanish radio station Cadena Cope.
"He knows full well that what he did was wrong but a 10-game ban seems to me absurd, out of proportion and unfair.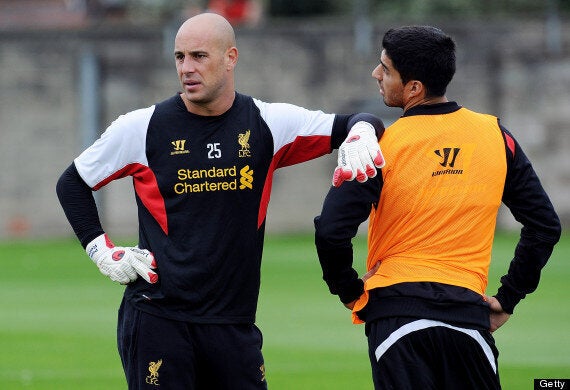 Reina accused the FA of hypocrisy after dishing out a 10-game ban
"It seems that the people making the decisions have got it in for Luis a little bit. That's the way I see it.
"I am not justifying what he did but the punishment is very disproportionate.
"He knows he was in the wrong, he knows he has made a mistake but the treatment is completely out of place.
"Those who know Luis know that he is the complete opposite (off the pitch), he is a magnificent person and great teammate.
"But because of the way he plays, he is aggressive and very competitive, he plays like a street player and sometimes the way he is gets him into trouble."
Reina also described sections of the English media of being sensationalist and "very very very very hypocritical".
Asked if he felt there was xenophobia in England, Reina said: "There is hypocrisy, I don't know if it's so much xenophobia, but a different yardstick is used.
"Some players are treated differently to others.