Fans of 'Broadchurch' can breathe a sigh of relief - they may have to wait a year or so for another trip to the Dorset coast, but at least they'll get to see David Tennant in action again before that... tonight, in fact.
And with viewers of 'Broadchurch's final whodunnit episode on ITV touching nine million on Monday, BBC execs will be grabbing their rosaries and praying that Tennant's touch can work the same magic for them.
Hot on the heels of his emaciated, emotionally paralysed but ultimately triumphant and compassionate turn as DI Hardy in the hit crime drama 'Broadchurch', the former Doctor Who star will be on our screens tonight in very different guise.
'The Politician's Husband' on BBC2 sees him take the title role, as a high-profile MP, Aiden Hoynes, who resigns from the Cabinet in what is seen by many as an ill-disguised, Heseltine-esque manoeuvre at a party leadership coup.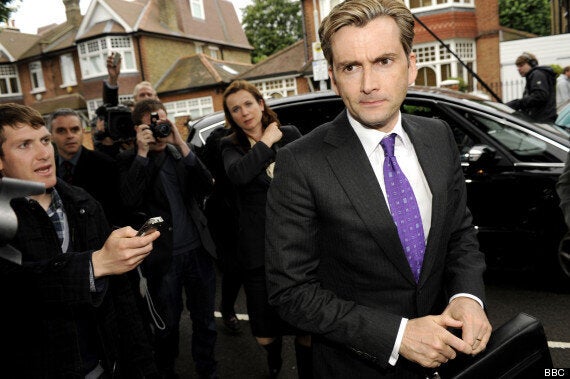 Aiden Hoynes' career may be in question, but at least he has the support of a loyal wife...
This would all be very 'State of Play' meets 'House of Cards'. What marks this out is Hoynes' personal circumstances, married to Freya (Emily Watson), who just happens to be an MP on the rise herself. She is, of course, utterly devoted to her husband and loyal to him in public ... until she's cherry-picked for great Cabinet things herself, becomes increasingly enigmatic in her decision-making, and that's when the fun begins.
Tennant is in fine form, with Hoynes' parliamentary posturing giving him much more opportunity to be suavely articulate than poor, brusque DI Hardy ever did. His grey hair and taut face makes his transformation complete.
But, one thing's familiar. Once again, he gets to trade in that thing he does... the mid-range, preoccupied stare, hinting at the demons within. As DI Hardy, he had that down pat and, now as Aiden Hoynes, he gets to bring it out all over again.
'The Politician's Husband' is on BBC2 tonight at 9pm.