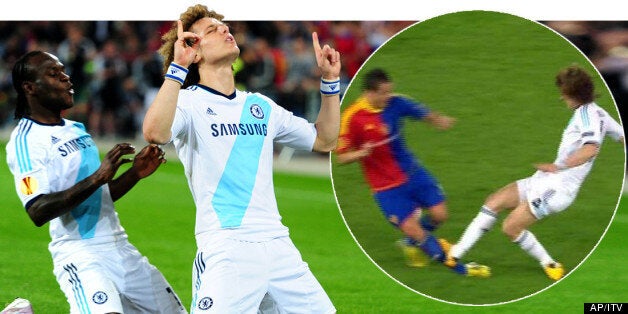 David Luíz's knack for tainting his impressive Chelsea displays continued when he executed an awful tackle on Basel's Philipp Degen, before hitting Chelsea's winner in their Europa League semi-final first leg.
With the last kick of the match, Luíz hit one of his open-footed free-kicks past the feeble Yann Sommer to give Chelsea a major advantage ahead of next week's return leg at Stamford Bridge, however Basel will argue he should not have had the opportunity to do so.
Ten minutes prior to his goal, Luíz, playing in midfield rather than defence, embedded his studs on Degen's shin with a challenge that referee Pavel Královec deemed only worthy of a yellow card.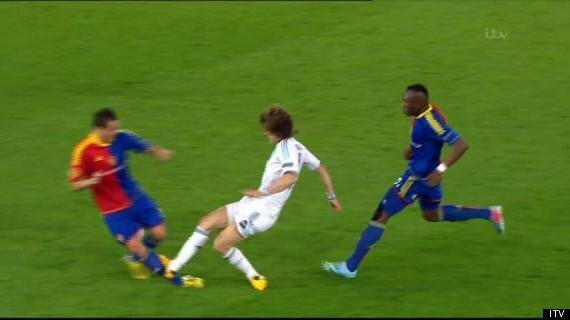 Luíz embeds his studs on Degen's shin
It means Uefa, who rarely dish out retrospective suspensions, are not empowered to act because Královec saw the incident.
Luíz, who demanded an apology from Sergio Agüero after the Manchester City striker trampled on him in this month's FA Cup semi-final, has a knack for meting out physical challenges.
He evaded a red card in only his third game for Chelsea against Manchester United in March 2011 after two off-the-ball fouls on Javier Hernández and Wayne Rooney, leaving Sir Alex Ferguson seething.
And the Brazilian had to apologise earlier this year after he left Brentford's Jake Reeves with concussion in the Blues' 4-0 FA Cup victory on Sunday.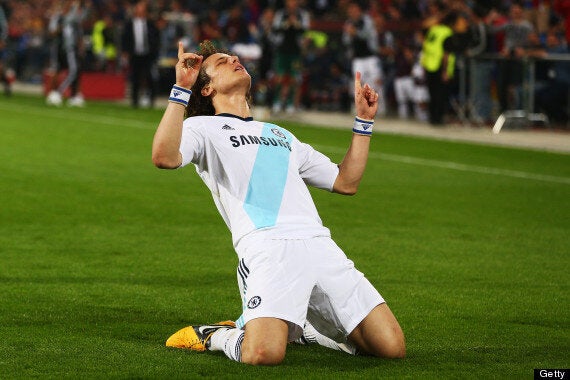 The Brazilian celebrates his stoppage-time winner
Chelsea led for 75 minutes on Thursday night after Victor Moses' 12th-minute opener, but after Královec awarded the home side a dubious penalty, Fabian Schar levelled the tie before Luíz regained the Blues' advantage.
Interim Chelsea manager Rafael Benítez was satisfied with the scoreline.
"After the penalty, which was a surprise for everyone, I think in the end the second goal from David Luíz was good enough for us. But I was a little bit worried about this penalty.
"For us, it wasn't [a penalty]. To give a penalty, it has to be very, very clear."
Related