This week's student musician is James Burrows, a quarter of James & The Rabbit Hole. He is 22 and studying at Imperial College London and Royal College of Music doing the Physics with Piano performance degree.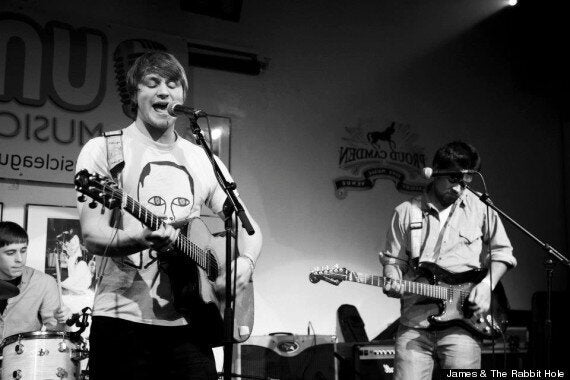 How long have you been playing?
I've been teaching myself guitar since I was about 14 but started music when I was about 8. I started on the piano and violin and sang briefly in a choir. Francis, the Keys player, has been playing since he was about 8 along with the bassist Conor. Dan I think has been playing the percussion since he was three and Tim started playing Double bass when he was 8 aswell and has been playing guitar for 4 years now.
What genre of music do you play?
As a band we play blues, rock, funk, soul and have dabbled in some country music recently. We only started a few months ago but thought it would be fun to have a crack at trying out alot of genre's so we can see where we would sit nicely as a group.
Why did you start playing?
I was about 7 and I had hear the guitar solo from Killer Queen and it was from that moment on I became obsessed with guitar. My Uncle had passed away long before i was born but he had an old pawn shop guitar lying around my grandparents house and I asked my mom if I could play it. She made a deal with me that if I learnt the violin and piano for 6 years first I would be allowed to pick it up and that's how I pretty much started music.
What's your most memorable musical moment?
Most memorable musical moment for me would have to be a time when the bassist and singer from a group I was jamming with at a blues bar got into a wrestling match midset. I think the bassist made a rude statment of some sort and as I turned around realizing the rhythm section had cut out they had already hit the floor and were at it.
My personal dream would be able to live off of playing guitar whether it be with a session player or with the band. Something about sitting in on a jam or a track and adding little bits here and there is definitely my definition of fun.
Who's your idol and who would you most compare yourself to? (Dead or alive...)
I have two idols. They are Derek Trucks, a boy raised on the road with The Allman Brothers Band to become a slide guitar player who makes his SG sound like Etta James whaling when he breaks out one of his nasty licks. Then there is Django Reinhardt, the two fingered Gypsy Jazz bad man who ruled the jazz circuit of Paris and even Europe in the 1930's with his ground breaking introduction of Gypsy folk music into jazz.
These guys are both my idols because they took something that had already been well established and showed that it was possible to take it even further with very little, one man with a glass bottle neck, and the other with just 6 fingers
If you could play with anyone, who would it be?
If I could jam with anyone it would have to be Derek Trucks. I've hardly got the chops to be trading licks with him but it would be a pretty sick experience. Definitely not cool enough to be chilling with the likes of Django.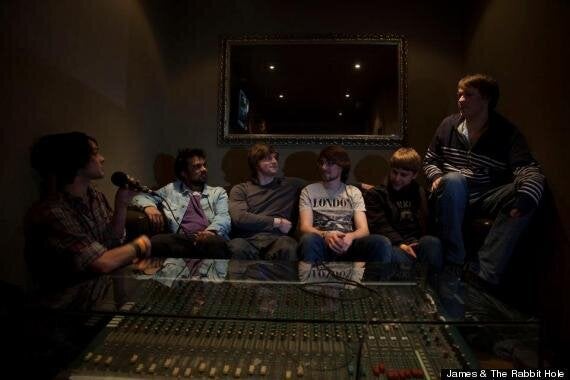 James & The Rabbit Hole chilling out
If you could play at any festival, which would it be?
I don't really know to be honest. There's alot of festivals out there that all offer their own atmosphere. It would be pretty crazy to play one of the big ones like glastonbury, or maybe crossroads guitar festival, rock the bells, or Coachella in America.
The band only really got started a few months ago so we are just starting an fanbase. Our fans would be our good friends from Uni including a shout out to Beth, Joe, Josh Freemont, Nicola, Mischa, and Rob who have been at every one of our gigs since the day we started.
What's your all time favourite song?
This is rather tricky. After much thought i'm going to have to lay it out there as The Wind Cries Mary by Jimi Hendrix.
Popular in the Community