Greggs employs 20,000 staff, in 1,700 shops across the UK. It serves more than 6 million customers a year (with the notable exception of George Osborne, who admitted last year he couldn't remember the last time he bought a pasty).
With responsibility for such a dent in the home-baked economy, Greggs has earned this behind-the-scenes four-parter on Sky.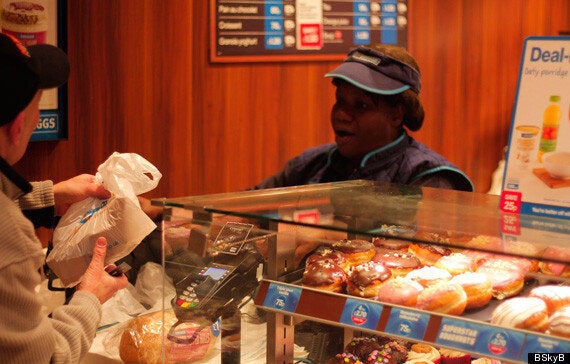 Greggs employs 20,000 staff in its 1,700 high street bakeries
Despite its success as the ubiquitous high-street baker, Greggs is facing the same challenges met with varying success by national institutions from Radio 2 to Adidas - how to appeal to new customers, without alienating the existing fan base.
Its answer - to bring in new uniforms, new posh delights on offer, the likes of giant cupcakes and artisan breads and to go all traditional with a bike with a bell on it on the wall. It sounds like a bit of a mixed message, but I'm sure they know what they're doing, and they're cooking a decent profit in these times of austerity.
This show is already a little bit out of date, with filming taking place before new chief executive Roger Whiteside took his place in the boardroom, but with a competitive element to the new ranges being designed, if you narrow your eyes, you could see it as The Apprentice meets British Bake Off. Probably best watched after dinner.
Greggs: More Than Meats The Pie - Tonight, Sky1, 9pm
Popular in the Community