Smiling, Harry Redknapp shook Reading manager Nigel Adkins' hand warmly and cracked a joke at the Madejski Stadium on Sunday. Harmless stuff, usually, only Queens Park Rangers' relegation had just been confirmed and Adkins looked perplexed by his opposite number's jovial reaction. What was so funny?
Reading too, will join QPR in the Championship as two of the Premier League's most shambolically prepared clubs consume their just desserts. Fail to prepare, prepare to fail, as Roy Keane would say.
For Redknapp, it is a second successive annus horribilis. On 8 February 2012, he was acquitted of tax evasion in the morning and Fabio Capello resigned as England coach in the evening. Redknapp was the heir apparent, according to his borderline partisan following in the press, the same cheerleaders who even sang "Happy Birthday" to him at one of his press conferences.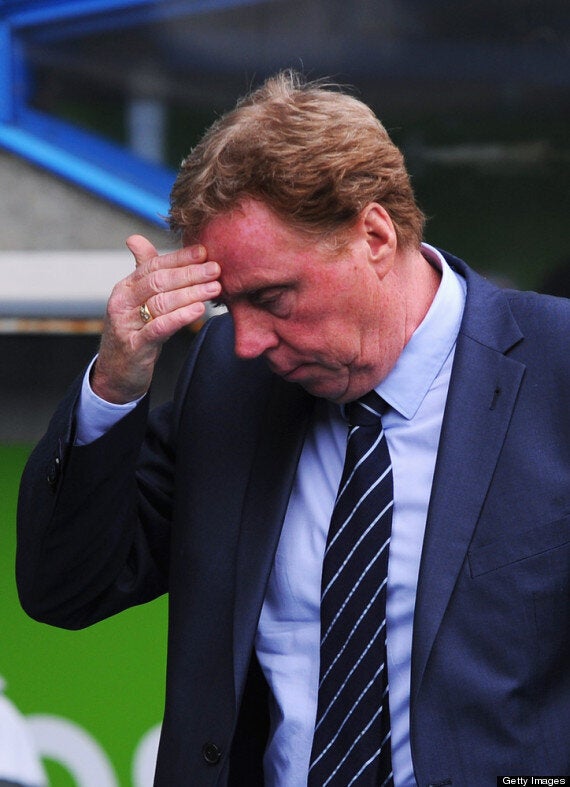 Only Tottenham then tripped over themselves umpteen times that even the worst Arsenal side in years usurped them in the league table, before Chelsea deprived them of a Champions League berth. That Spurs were dependent on Bayern Munich doing bailing them out was testament to how fun yet flawed they were to watch under Redknapp.
Taking over Manchester City's "typical" moniker, in Redknapp's four years the club ultimately underachieved. Their memorable run to the Champions League quarter-finals in 2011 was vibrant, but at the expense of dire domestic form.
Four months after Capello's resignation, Redknapp was sacked by a Tottenham hierarchy weary with his hankering for the England role. Gallingly for Redknapp, only one of the Football Association's four-man panel wanted him to succeed Capello. Fourteen months on from his court case, Harry has gone down.
In 30 years as a football manager, Redknapp has won just one trophy. Aside from Portsmouth's fortuitous FA Cup win in 2008, he has experienced relegation with Bournemouth, Southampton and now QPR. The fawning and fascination with a man who traditionally excels outside the Premier League is baffling.
Redknapp did not, as he often reminds everyone, oversee the start of QPR's downfall. Poor mismanagement in the boardroom by Tony Fernandes and the boot room by Mark Hughes saw the club endure a winless first 13 games of the campaign. Eleven players had been signed and after a feckless home defeat to Southampton in November the club looked to Redknapp to keep the sinking ship afloat with 26 games to play.
Despite having that time, Redknapp typically failed to issue a mea culpa on Sunday.
"If you had the job at the start of the year it would have been different because you build your team and that is your team," he said.
"You shouldn't be running around in the transfer window trying to patch a team up, it is very difficult then. I spent days and days away from home all over Europe trying to plug some holes.
"You build your team in the summer, that is when you build a team, do your training and get together. The club went 13 games without winning a game and that is quite a bad start by anyone's standards."
However reckless and misguided Hughes was in pre-season, he replaced Neil Warnock with 18 games remaining last year, brought in five players and the Rs stayed up after winning five of their final 10 games, beating Liverpool, Arsenal and Tottenham.
Redknapp had form for resuscitating a team in peril before when his Houdini act worked with Portsmouth in 2005-06 but his reputation was not as damaged as when QPR hired him to save their season. His huge dependence on money and man-management came unstuck at Tottenham, whose 2011-12 season capitulated when he partnered Emmanuel Adebayor with January signing Louis Saha, rather than deploying Rafael van der Vaart as the Togolese's foil. A simplistic error, Spurs won five of their final 14 league games.
In 22 games with QPR, he has sampled victory on a pathetic four occasions. Lessons weren't learned from the summer as they invested £34.1m in Christopher Samba, who has been more like Cumbersome Amble, since joining from January. Clint Hill was appointed captain. Now that's funny.