Reginald D Hunter has been asked to repay his fee for performing at the Professional Footballers' Association's annual awards ceremony on Sunday night, after it was claimed he ignored a specific brief not to use racial humour.
Hunter, a 44-year-old black American from Georgia familiar to British audiences through Have I Got News For You, used the word "n****r" during his set and the PFA chairman, Clarke Carlisle, admitted on Monday he was "embarrassed" by the set.
The PFA deputy chief executive, Bobby Barnes, has since revealed the organisation will look to recoup the fee paid to Hunter.
"We are in discussions with our lawyer and our lawyer is in discussion with the London Speaker Bureau, who we booked him through," said Barnes.
"Whatever he was paid was too much. We are obviously very upset, because he was briefed. We are very aware that we have a very diverse audience there. I can't think of a redeeming feature where you could say that was positive because I actually think the whole performance from start to finish was dreadful," he added in the Daily Telegraph.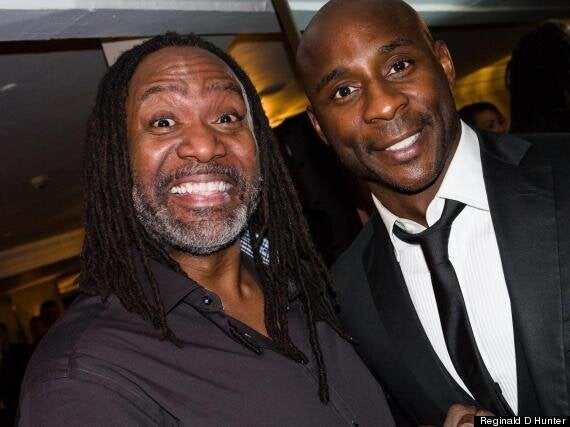 Hunter with Jason Roberts after his set
"I think there were a few raised eyebrows over the comedian, but that is the sort of thing you can't control. It was unfortunate."
A PFA statement released on Monday evening, however, read: "In a conference call with Reginald and three members of the London Speaker Bureau through which he was recruited, it was outlined the make-up of our audience which would be widely diverse, including around 25% of women and ages ranging from 18 to 80.
"It was made absolutely clear that swearing or any racist references were to be avoided. Therefore we were totally dismayed that the performance was the exact opposite of our requirement."
Hunter, who posted several pictures on his Facebook page, made light of the furore, labelling one album "Irony's Annual Night Off" before uploading an album dubbed "The Horrible Aftermath".
In a picture of him and Reading striker Jason Roberts, the caption reads: "Reginald D Hunter and this disgusted PFA attendee prepare to entertain the PFA after party with a reenactment of the fight scene from Django Unchained."
Titles of Hunter's previous Edinburgh festival shows include "A Mystery Wrapped In A N***a", "Pride And Prejudice And N****s", "F**k You In The Age Of Consequence", "The Only Apple In The Garden Of Eden And N****s", "Trophy N****r" and "Work In Progress...And N****s".