Barcelona's merciful 3-1 thrashing of Manchester United in 2011, the greatest Champions League final performance since Johan Curyff's Dream Team was demolished by AC MIlan 17 years earlier, was the harbinger to herald a new era, but not a Barça era. Their powers of recovery in regaining their European crown, following final four losses to United in 2008 and Internazionale in 2010, deserted them against the brilliant Bayern Munich, who humiliated the Catalans an astonishing 7-0 on aggregate.
Back in 2011, Barcelona were hailed as one of club football's greatest sides. Boasting La Masia graduates, near-flawless ball retention, indefatigable pressing, an original style, the talismanic Lionel Messi and an A-list supporting cast, Barça were the envy of the world. And they seemed set to get better.
That summer, Cesc Fàbregas came home and Alexis Sánchez, 2011's Eden Hazard, declined the Manchester clubs in favour of heading to the Camp Nou. The statements of intent prompted the word "unbeatable" to be bandied about while predictions were made that Barça's hegemony could extend for another five years. Pep Guardiola had won two European Cups out of a possible three and Real Madrid had been comfortably held off in the Primera Liga, with Barcelona losing just one of their 38 games.
Fast-forward two years and Fàbregas is spuriously linked with a return to Arsenal while Sánchez is unlikely to appeal to either United or City this summer, should he become available. Amidst the giddiness of the Wembley win, the squad became unbalanced and the consequences were emphatically stressed by Bayern over the course of eight chastening days for Barcelona.
Poor business and a series of other consequences have stripped Barcelona of their near-invincibility. Madrid rallied almost immediately last season and got under their adversaries' skin in the temperamental Supercopa, in José Mourinho's case, his fingers got under Guardiola's then assistant Tito Vilanova's eyelids. Madrid beat Barcelona just once out of six meetings, but Mourinho's first win as an opponent at the Camp Nou effectively sealed their first title in four years. Madrid went on to win the league by nine points, hitting the 100 mark.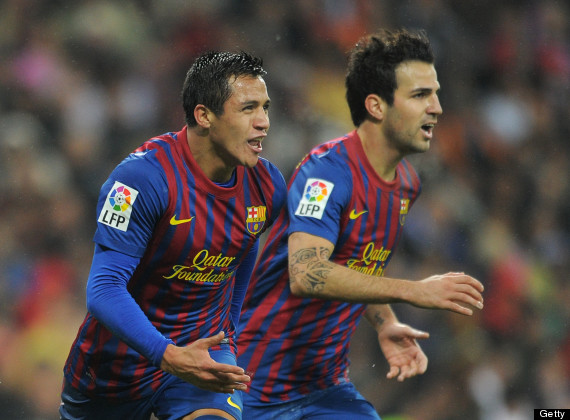 Sánchez and Fàbregas' arrivals signalled Barcelona's decline
Guardiola's chequered record with transfers extends beyond the double marquee coup two years ago. Currently injured, Javier Mascherano has been downgraded from an excellent defensive midfielder to an auxiliary centre-back and Adriano is an unacceptable alternative to the ebullient yet naive Jordi Alba.
Fàbregas, 26 this weekend, was expected to command a pivotal role by now, but he remains peripheral. He's managed 28 goals and 31 assists in 91 appearances for his boyhood club, but the Primera Liga's flat-track bully age further taints an already distorting statistic.
The main mistake Guardiola committed was not to strengthen Barcelona's defence. However well they played during his four glorious seasons, they were always defensively vulnerable against any team with the gumption and gall to unsettle them. The target of becoming the first team to retain the European Cup in the Champions League era was squandered by a disciplined Chelsea team as Pep's Plan B looked remarkably like Plan A, while Madrid seem to frighten the bejesus out of their nemesis with their renowned counter-attack.
Yet it was Bayern, the best team the Blaugrana have faced in their golden era, who eviscerated them twice. Excuses are offered, although it is unlikely that a fully-fit Carles Puyol would have contained the talented Thomas Müller.
Guarduiola's departure last year, exhausted from the politics and the Clásico clashes, prompted the in-house appointment of Vilanova, which has proved to be a mistake. The Spaniard's health almost compromised Barcelona's European campaign as early as the last 16, and Barça's struggles on the continent has dispelled the myth Guardiola did much more than merely pick from an embarrassment of riches.
Suddenly, Barcelona resemble a one-man team. Messi, perched on the substitues' bench for Bayern's arrival in an unfitting Arsène Wenger-like jacket, was apparently fit but not risked, after experiencing a "strange feeling" at Athletic Bilbao at the weekend. Humiliated: Villa and Fàbregas look dejected after Arjen Robben's opener
"In the final minutes of the game at San Mamés he noticed a strange feeling," Vilanova said. "He's not injured, but he felt he could pick up an injury. Yesterday he trained, and also today... but he did not feel well. He's an explosive player and he could break. So, maybe he could not help the team."
Despite the excuse, it remains a baffling decision by Vilanova considering his team are champions-elect and likely to confirm that status this weekend, while there is no Copa del Rey final on the agenda.
Paris Saint-Germain hinted at just how dependent Barcelona were on Messi three weeks ago when they dominated the first hour of the clubs' last-eight tie at the Camp Nou. Messi, not risked from the start, arrived to galvanise his tentative teammates although Barça only progressed via the maligned away goals rule. It proved to be a stay of execution before Bayern bloodily stuck the knife in.
At Wembley two years ago, Gerard Piqué cut out a portion of the net as a souvenir to commemorate his second European Cup win. Barça must now cast their own net wide for him to add to his keepsakes.