UPDATES:
A man who lived next door to the Ohio house in which with three women and a young girl were found, two of which had been missing for over a decade, has described how he used to eat ribs and barbecue with their kidnapper, whom he said "had big testicles" to pull this off.
Charles Ramsey, a neighbour of the man arrested, said he was "eating his McDonalds" when he first heard Amanda Berry's screams.
He said he assumed it was a case of domestic violence, but that it was a "dead giveaway" it was something more than when a six-year-old white girl "ran straight into the arms of a black man."
He told reporters: "I knew something was wrong when a little pretty white girl ran into a black man's arms, and I thought, something is wrong here. Dead giveaway. DEAD giveaway. Either she homeless or she got problems, that the only reasons she run to a black man. " Charles Ramsey found the girls
He said he suspected nothing and that the man was nothing out of the ordinary.
"I mean, it's my neighbour. I thought to myself, you got some big testicles to pull this off bro, because we see this dude every day. I barbecue with this dude, we listen to salsa and eat ribs together and whatnot. We had not a clue that a girl was in that house, or anyone else against their will. The way he is, he just comes out his backyard, plays with the dogs or tinkers with his cars and motorcycles, so he's someone you look at and then you look away because he's not doing nothing but your average stuff. Nothing exciting about him, well, until today.
Police have arrested three brothers, one of whom lived in the house. No details have been released in connection with the six-year-old girl.
He said he first released Amanda Berry after hearing screams, who he saw "going nuts trying to get out the house." Berry disappeared at age 16 on April 21, 2003, when she called her sister to say she was getting a ride home from her job at a Burger King.
He said "I go in the porch and she says 'help me get out, I been here a long time.' I figured it was a domestic violence dispute, so I try and get in the door, but we couldn't get in that way, because the way the door opened, a body couldn't fit through, only a hand, so we kick the bottom and she comes out with a little girl and she says 'call 911 my name is Amanda Berry...there are other girls inside '
"It didn't register who Amanda Berry was until I was on the phone to 911 and I was like, wait a minute, this girl is meant to be dead."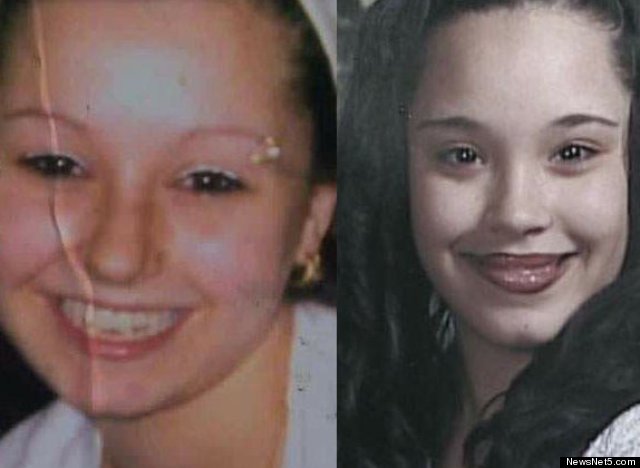 Amanda Berry and Gina DeJesus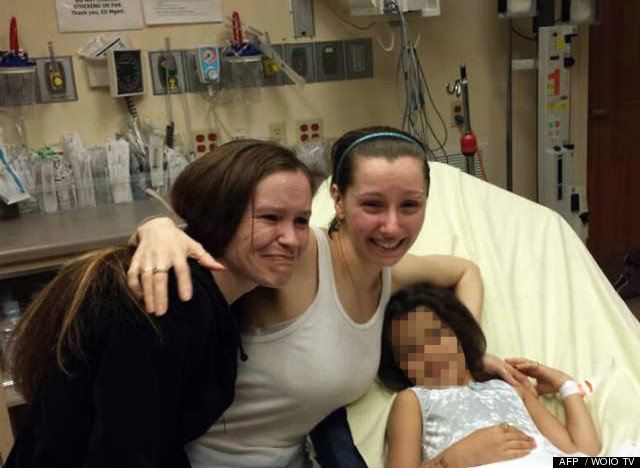 Amanda Berry in the centre, is reunited with her sister. Her mother died whilst she was still missing
Gina DeJesus was also found in the house, along with Amanda Knight. DeJesus went missing at age 14 on her way home from school in 2003. Knight went missing in 2002 and is 32 now. They were found just a few miles from where they had gone missing.
Ramsey told reporters "I saw Gina about five minutes after the police got here. Amanda told the police, I ain't the only one, there be some more girls up in that house, so they [the police] went up there, thirty, forty deep, and when they came out it was just astonishing, because I thought they would come up with nothing."
The women have now been reunited with their families, although Amanda's mother died in 2006, three years after she went missing.