Ronnie O'Sullivan landed his fifth Betfair World Championship title on Monday night and hinted he could backtrack on retirement plans.
After going into self-imposed exile from snooker for almost a year, O'Sullivan rolled up in Sheffield without any competitive match practice and proceeded to tear through the draw, culminating in an 18-12 triumph against surprise finalist Barry Hawkins.
Pressed on whether he would return next year, having during this event pledged to quit before next season's Crucible tournament, O'Sullivan said: "I can't say that I am, because I had my year out and enjoyed my year out. I intend to play in some small events. Come December or January I'll have a better idea of what I'm going to do."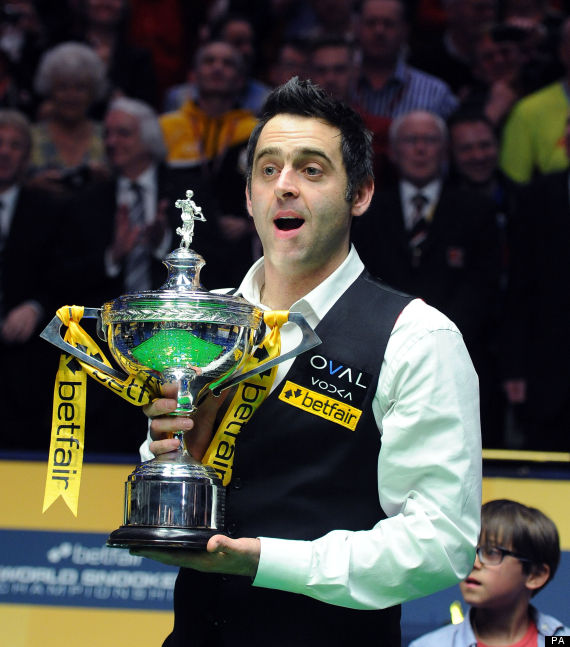 O'Sullivan clutches the World Championship trophy
He added: "Now I've got to enjoy one of the most amazing things I've ever done, retaining the World Championship title.
"I'm well equipped to win more titles but it's not easy. There were times in this tournament when parts of my game weren't great.
"But I managed to play my way through the tournament and get stronger and stronger. I was able to manage my emotions and my mind better than I ever have done and that got me through."
He prevailed in record-breaking style, with his six centuries one more than any player has managed before in a World Championship final.
His career total of three-figure Crucible breaks now stands at 131 - four ahead of former front-runner Stephen Hendry's haul. Following breaks of 103, 106, 113 and 100 on Sunday, O'Sullivan ploughed in 133 and 124 on Sunday.
Hawkins made two centuries in the match, so to lose was hard to swallow.
Hawkins said: "I'm a bit gutted straight after the defeat but if someone told me I'd get to the final I'd have ripped their arm off. Once you get there you want to win the title but you can't come up against anyone tougher than that. There's no shame in losing to him 18-12."