A bizarre bicycle race between a bear and two monkeys ended in a bloodbath after the bear toppled one of the primates from its velocipede and wolfed it down in front of a circus audience.
The incident happened at the annual 'Wild Animal Olympics' at an animal park in Shanghai and though costumed zoo staff attempted to beat the bear off the monkey with sticks, the mammal continued to attack the primate.
Campaigners claim the animal olympics is cruel and have called the animals "miserable" and victims of cruelty and abuse.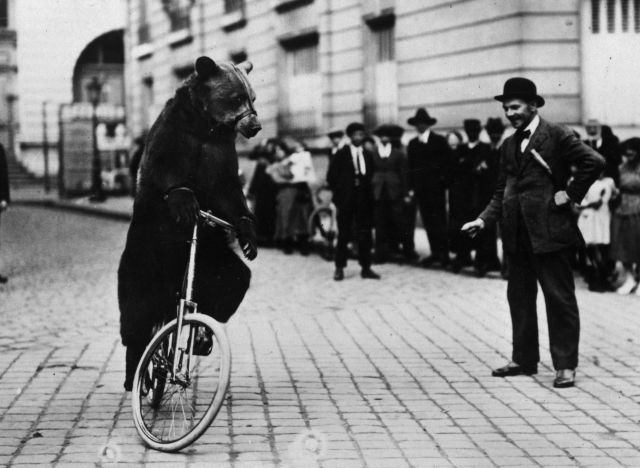 Bears riding bicycles were popular in 1920s (picture taken in Paris 1926)
This isn't the first time zoo visitors have been subjected to vicious scenes as monkeys are mauled by bears. Bears killed and devoured a monkey at a Dutch zoo in 2006, despite spectators' screams. A bear ate a monkey at a Dutch zoo in 2006
The attack occurred in an enclosure which contained both monkeys and sloth bears, a type of black bear found in Asia.
The park said afterwards it planned to move the macaques to another part of the park.