A housewife died after eating one of the world's most deadly mushrooms - which she had picked in her garden, an inquest heard on Thursday.
Christina Hale, 57, did not realise she had gathered poisonous death cap mushrooms and used them to cook soup for her and her husband.
Mrs Hale, who found the mushrooms in the couple's large garden in Bridgwater, Somerset, ate a large quantity of the soup for her evening meal.
Her husband Jocelyn Lynch, 49, had a smaller amount as he also ate stew for dinner, West Somerset Coroner's Court heard.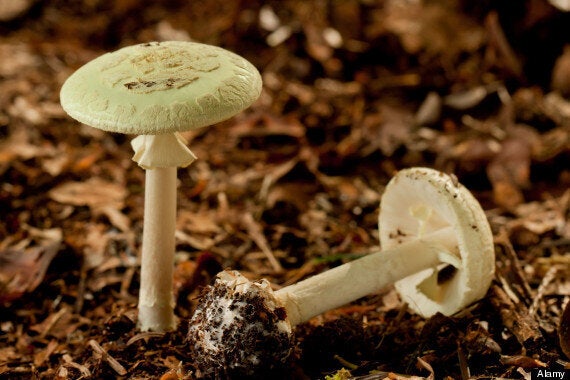 Mr and Mrs Lynch ate death cap mushrooms
The couple began to feel unwell the following morning and their condition deteriorated, with both rushed to Musgrove Park Hospital in Taunton two days later.
Mrs Hale tragically suffered from multiple organ failure and died the following day in intensive care surrounded by her family.
Mr Lynch, who had been married to Mrs Hale for 13 years, recovered from his ordeal and was allowed to return home.
The inquest in Taunton heard that consuming just half a death cap mushroom can be fatal and there is no antidote.
Mr Lynch told the court his wife picked the mushrooms while he was at work in nearby Weston-super-Mare and he did not know how many had been cooked in the soup.
The property developer said: "We had picked mushrooms for mushroom soup before. She hadn't done it on her own before.
"My wife prepared the soup while I was at work. Normally it was added to a can of Campbell's condensed soup.
"I had a bowl of mushroom soup that she gave me. She made the soup her main meal. All I know is I had one bowlful, I don't know how much the wife had.
"She might have eaten some throughout the day while she was preparing it."
Mr Lynch said the couple felt unwell by the morning after they had consumed the soup, on November 15 last year.
He went to work but had to return home, where he found his wife also suffering from vomiting and diarrhoea.
They spent much of the night in separate bathrooms and the following morning, November 17, a Saturday, Mrs Hale called an out-of-hours service.
The inquest heard Mrs Hale told the operator she had "eaten some dodgy mushrooms" and a doctor arrived at midday to examine her.
Mr Lynch said: "I was present in the room. The doctor felt it was norovirus. She thought the mushroom soup was incidental.
"With the norovirus, she was concerned that being presented to hospital, the hospital wouldn't be best pleased."
Mrs Hale was given an injection to stop her from vomiting and capsules to stop diarrhoea.
She seemed to "pluck up" afterwards and remained in the lounge to sleep that night, Mr Lynch said.
But he was woken up by shouting from downstairs just before midnight and found his wife being treated by a doctor and a team of paramedics.
Mrs Hale, who had called the doctor herself, was rushed to the accident and emergency department at Musgrove Park Hospital by ambulance.
Her husband attempted to drive to the hospital after her but felt too unwell and had to be taken there, where he was admitted.
Dr Helene Lindsay, a consultant in intensive care and anaesthetics, told the court Mrs Hale suffered a number of cardiac arrests at the hospital.
Her heart, which had been poisoned, stopped at least four times and the toxins also struck her kidney and liver.
Doctors caring for Mrs Hale consulted experts at the National Poison Centre in Cardiff, who identified the mushrooms by photographs sent by email.
Dr Lindsay told the court that even if Mrs Hale had been admitted to hospital earlier, she probably would still have died.
She said: "It may well have been that Christina had ingested enough of a quantity of mushrooms that whatever happened she was going to die.
"With a death cap mushroom just half a mushroom is enough to kill someone."
The consultant said she believed there were just a few cases of death cap mushroom poisoning in the UK each year.
She said the only treatment that could have helped Mrs Hale was a liver transplant but she was too unstable to travel to a specialist ward by ambulance - even if an organ had been available.
Mrs Hale died from multiple organ failure at the hospital on November 19, four days after eating the mushrooms.
West Somerset Coroner's Court Michael Rose praised the efforts of medics who battled to save her.
He recorded a verdict of death by misadventure at the inquest, which was attended by Mrs Hale's family and friends.
The coroner said: "This is a very tragic case.
"The tragedy is that Christina had wanted some soup, she had picked mushrooms before to bolster and enhance Campbells mushroom soup.
"She had picked out what we now know are death cap mushrooms, they contain many poisons. Half a mushroom has been known to kill people.
"I have a suspicion that Mrs Hale took a considerable amount. The problem with these mushrooms is that if you do eat them it does not taste unpleasant."
Mr Rose said the delay in Mrs Hale attending hospital had not affected her chances of survival.
He said: "I am quite satisfied by the evidence that the assault that had been made from the toxins into the body of Christina was too great to survive.
"Even if she had been sent to Musgrove Park Hospital it would not have affected the outcome.
"I am impressed by the level and standard of treatment at the hospital.
"I would like to think that with the treatment she was given, she would have been oblivious to the final outcome."
Mr Rose warned others to be careful when picking mushrooms.
He said: "I think the lesson is one should never pick mushrooms, particularly under trees, unless you know exactly what you are doing."
The medical cause of death was recorded as multiple organ failure due to death cap mushrooms.
Death cap mushrooms, amanita phalloides, have a similar appearance to safe varieties.
Popular in the Community