A modern version of Richard Wagner's Tannhauser has been cancelled after members of the opening night audience were left so distressed they had to seek medical help.
Some viewers were treated for shock after witnessing the "harrowing" scenes involving a concentration camp during the Holocaust, at the Deutsche Oper am Rhein in Dusseldorf.
The performance showed scenes of Jews being executed and dying in chambers, violent rape and suicide by self-immolation, Der Spiegel reports. Cast perform in a scene of the opera Tannhauser during a dress rehearsal dated April 30
It also featured a family being shown having their heads shaved and then being shot.
The production has now been cancelled and the opera will be performed only as a piece of music, the BBC says.
It quotes a statement from the opera house, which says: "With paramount concern, we note that some scenes were depicted very realistically," causing "psychological and physical stress" to some audience members.
It adds "intensive conversation" was held with director and actor Burkhard C Kosminski about possible changes to the production, but "he refused to do this for artistic reasons.
"Of course, we have to respect – and also for legal reasons – the artistic freedom of the director."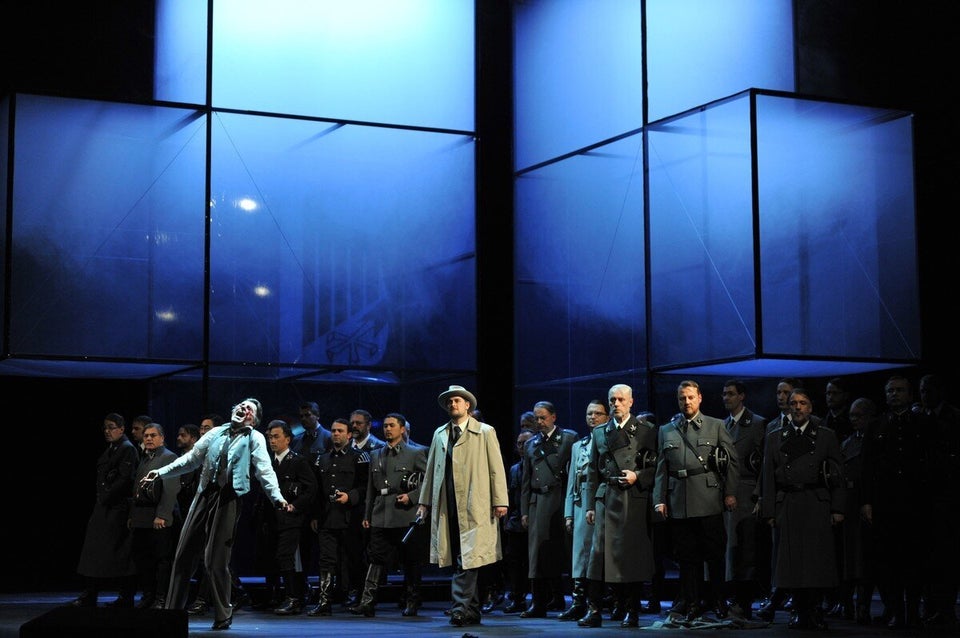 Tannhauser
Tannhauser is traditionally a three-act opera set in medieval Germany, featuring a namesake bard and a singing contest at Wartburg Castle.
Michael Szentei-Heise, head of the Jewish community in Dusseldorf, told the Associated Press the production was "tasteless and not legitimate".
He added: "This opera has nothing to do with the Holocaust. However, I think the audience has made this very clear to the opera and the producer."
Members of the audience are said to have booed and banged doors as they left the building in protest on the opening night.
Wagner, who died in 1883, is associated with Nazism and was one of Adolf Hitler's favourite composers
He is regarded as an anti-Semite and playing his music is still considered to be a taboo in Israel.
Related