Every Manchester United supporter has a personal and significant relationship with Sir Alex Ferguson, however distant it is. To give an indication of the Scot's longevity, he was appointed at Old Trafford four months after my parents married and, at the age of seven, the first name I remember touted as his successor was Wolves' Mark McGhee.
David Moyes, the heir apparent, first came to prominence aged 11 when I read Ferguson had identified the Preston North End manager as a potential successor to Brian Kidd as his assistant manager. Ultimately, he preferred Steve McClaren. McClaren, like McGhee, was once regarded as a credible replacement too.
After a radio appearance on the busiest Wednesday in living memory, one of the BBC employees asked me a simple question you could write a dissertation on. "What makes Ferguson so good?"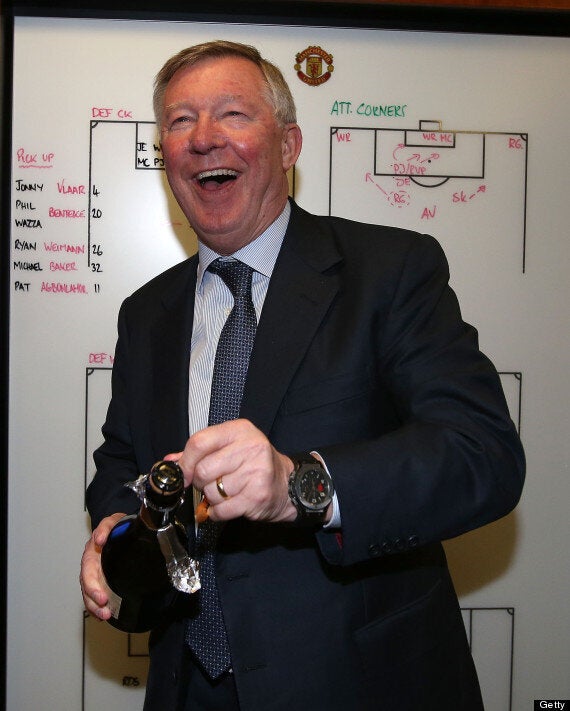 Ferguson celebrates his 13th and final title win
The best answer I could give was his "desire to win". Another United enigma, Roy Keane, perhaps Ferguson's greatest lieutenant, with his snarling streak and rampant rage, is an indication of the standards his manager set. Whereas Ferguson's masterplans were conducted behind closed doors, Keane reflected his manager's winning obsession on the pitch for 12 glorious years. Victory for Ferguson and Keane is - was - as essential as oxygen.
And it is that determination which contributes to a terrific yet tainted legacy at Old Trafford. Despite the 13 titles, five FA Cups, four League Cups, two European Cups, European Cup Winners' Cup, Intercontinental Cup, Club World Cup, European Super Cup (should we count the Community Shields? there's 10 of those), what hundreds of thousands of United fans have lost sight of is that supporting a club is about much more than just the result.
The Glazer family's hostile takeover in 2005 has split United's fanbase into several factions. Some fled to FC United, others have boycotted, many are apathetic and many more are blinded by on-pitch success. Gallingly for those who adore Ferguson, it was arguably his own personal greed which led to United being sapped of their soul.
Horse racing, Ferguson's great labour of love, ultimately ended several United fans' unconditional love for him. His friendship with John Magnier and JP McManus soured when in 2003 he launched legal action against the duo, who were major United shareholders, over Coolmore stud rights for racehorse Rock of Gibraltar. The case was eventually settled out of Court but the legal issues were further complicated by the infamous "99 Questions" request to be answered over Ferguson's transfer dealings.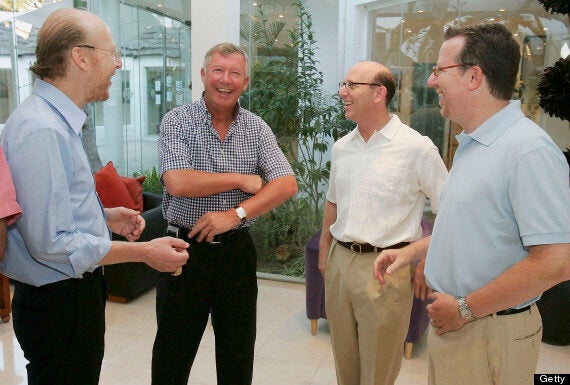 Ferguson with Malcom Glazer's sons in 2005
Then in May 2005, Magnier's 28.89% shareholding in United was sold to Malcolm Glazer and later that month United, a previously debt-free club, were saddled with hundreds of millions of pounds of debt.
After failing to mount a challenge for the title in two successive seasons, Ferguson's job had not been this insecure in 15 years. The Glazers had previously sacked the long-serving coach of their NFL franchise, the Tampa Bay Buccaneers, and that ruthless reputation was cause for consternation for Ferguson. However he offered them his full support and his pledge has been rewarded with minimal interference from the uninitiated owners.
Naturally, Ferguson's complicity has largely been overlooked due to the success he has continued to deliver. The only man who has dared to pour fuel onto the fire is Roy Keane.
"People say Ferguson always does what's right for Man United. I don't think he does," Keane told The Sunday Times' David Walsh in December 2011. "I think he does what's right for him. The Irish thing , I was speaking to the manager about it. This didn't help the club, the manager going to law against its leading shareholder.
"How could it be of benefit to Man United? It wasn't and we know what happened [in the end]. What was that all about? Power and control. 'They've used me, they've treated me badly', Ferguson told me in his office. I said, 'You're not going to win', and he said, 'I don't care, no-one does that to me', and I go, 'Okay, off you go, I'm not going to change your mind'. Amazing what happens."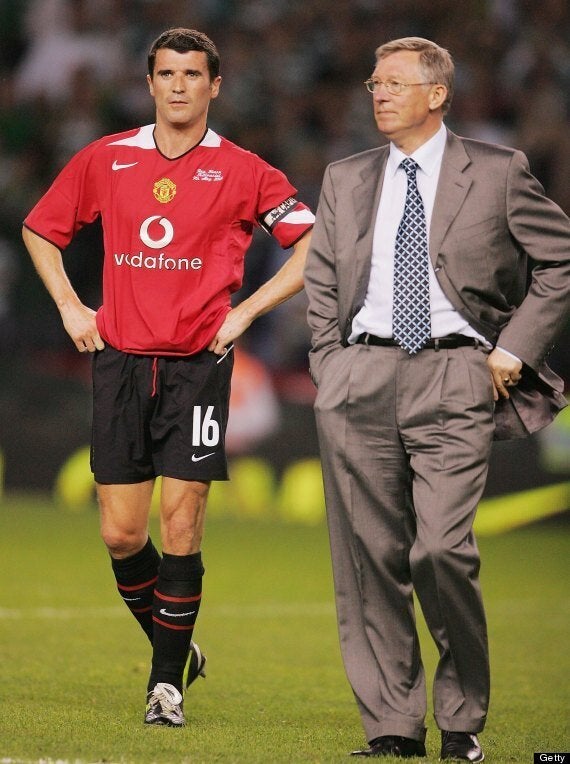 Keane and Ferguson at the former United captain's 2006 testimonial
Initially supporters surmised Ferguson was stepping aside to allow José Mourinho, an arguable upgrade, to fulfil his desire of returning to English football. It would have been an uncharacteristic move, and with United opting for a vastly inferior option in Moyes, it is likelier that health issues have prompted Ferguson to bring his 26-and-a-half-year reign to an end. The Everton manager's imminent appointment has already got fans pining for Ferguson to return before he has even left.
One of Ferguson's unofficial biographers argued in his conclusion Ferguson is not a genius. Yet it is testament to his indisputable ingenuity that he has made United a successful institution in spite of the Glazers leeching off the club. United have won 10 major trophies in the last eight years, with Ferguson forced to rely on his incredible will when the purse strings were tightened despite receiving £80 million for Cristiano Ronaldo.
In 1992, United trailed Liverpool by 18 championships to seven and Ferguson usurped them 19 years later having signed a Fulham reserve, an unknown Mexican and a Portuguese vagrant. He has seen off Blackburn, Newcastle, Arsenal, Chelsea and, most recently, his final great challenge, Manchester City. It's a tainted, yet triumphant, legacy.
Popular in the Community