Lionel Messi and Pelé will be the subject of two separate films on the footballing legends' lives next year.
Messi's life story is set to hit the cinemas in time for the 2014 World Cup, with Epic Pictures Group confirming it is financing and developing a Rocky-style film after buying the rights to dramatise a biography about the Barcelona star.
The Beverly Hills-based company says the biopic will chart Messi's rise from a modest background in Argentina and how he "overcame his physical shortcomings to become one of the greatest players of all time."
Co-founder Shaked Berenson hopes "audiences will be uplifted by this incredible tale of fighting for your dreams."
The as-yet untitled Pelé film, meanwhile, will be produced by Brian Grazer, veteran of truth-life stories such as the upcoming Rush, Frost/Nixon and A Beautiful Mind. Shooting will commence this August with The Two Escobars' team Michael and Jeff Zimbalist writing and directing.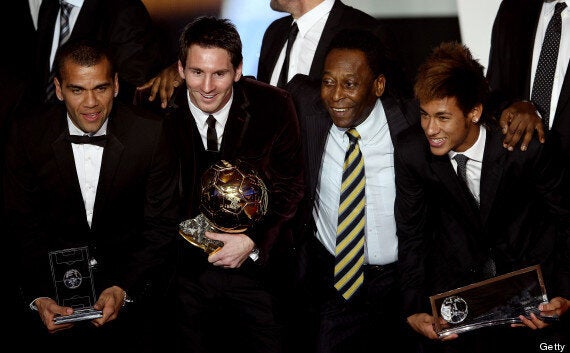 Messi (second left) and Pelé (second right) together in 2012
Pelé, of course, starred in the cult football film Escape to Victory alongside Michael Caine, Sylvestor Stallone, Bobby Moore and the like.
Football has proved to be tricky to pull off on film, with Bend it Like Beckham and the Goal! movies failing to buck the trend in recent years.
However the relative success of 2009's The Damned United and the 2006 documentary Once in a Lifetime suggests there is hope for the beautiful game on film.