Wigan Athletic delivered one of the FA Cup's greatest shocks as they beat Manchester City in the Wembley final thanks to substitute Ben Watson's 89th minute header.
City, reduced to 10 men after Pablo Zabaleta's red card, were undone when Shaun Maloney's inswinging corner was nodded past Joe Hart for a result to rival Sunderland's triumph over Leeds in 1973 and Wimbledon's 1988 win against Liverpool.
The first major trophy in Wigan's history, celebrations will be on hold as they bid to avoid relegation from the Barclays Premier League with two games remaining.
Wigan had not beaten City since September 2008 yet were worthy winners in the best FA Cup final since 2006.
Pockmarked by nearly 4,000 empty seats in the corporate sections and third tier, the new Wembley has hosted some stultifying finals since its first in 2007, but the 2013 showpiece was a stimulating start. Watson's header beats Hart in the 89th minute
City began ominously as Wigan exposed their Cup final nerves by conceding an early for a foul on Sergio Agüero free-kick. Carlos Tévez's effort careered into the wall, but Joel Robles had to parry Yaya Touré's rebound snap shot. The offside flag which scuppered City's hopes of continuing the attack was greeted uproariously by the Latics' following.
Having survived the early scare, Wigan began to confidently assert themselves, with their attacking triumvirate creating the first outstanding chance of the game. Arouna Koné found Callum McManaman with a neat ball inside the area, but the FA Cup specialist opted against shooting on his stronger foot to cut inside, and his left-footed drive was wayward.
Gaël Clichy, facing McManaman for the first time, was regularly embarrassed by the 22-year-old eager to continue his love affair with the competition. However he was as mesmerising as he was mercurial, a knack which would prove critical later on in the match.
Prior the half-hour mark Joel needed every inch of his 6 ft 5 in frame to deny Tévez when David Silva's pull back fell into the path of the Argentine. Tévez's 10-yard strike was mishit, but the ball flicked off Joel's boot and crept over the bar as the stadium held its breath
Seven minutes later it was City fans' turn to be anxious when Roger Espinoza was brought down by Zabaleta. What should have been a red card and a penalty was erroneously overlooked by referee Andre Marriner, who this week revealed he cried when informed he would be refereeing the final. He may have shed tears when looking at the replay of Zabaleta's challenge.
City didn't heed the warning and moments later McManaman was one-on-one with Hart. The winger evaded the England goalkeeper and deceived the panicky City defenders in the area, but rather than assist Koné his greedy goal-bound effort was blocked.
Joel parried a speculative Samir Nasri shot towards the end of one of the most absorbing goalless halves in recent memory, with Roberto Mancini struggling to contain his exasperation on the touchline, in contrast to his satisfied namesake Martínez.
Mancini re-emerged early for the second 45 to sign autographs. City fans hollered his name a number of times prior to kick-off in what was a deliberate show of support, as rumours mount Manuel Pellegrini could replace him this summer.
His team began the second-half as positively as they had the first. Sergio Agüero was thwarted by the diligent Emerson Boyce, when the Wigan captain blocked his near post shot after Tévez left Paul Scharner with twisted blood.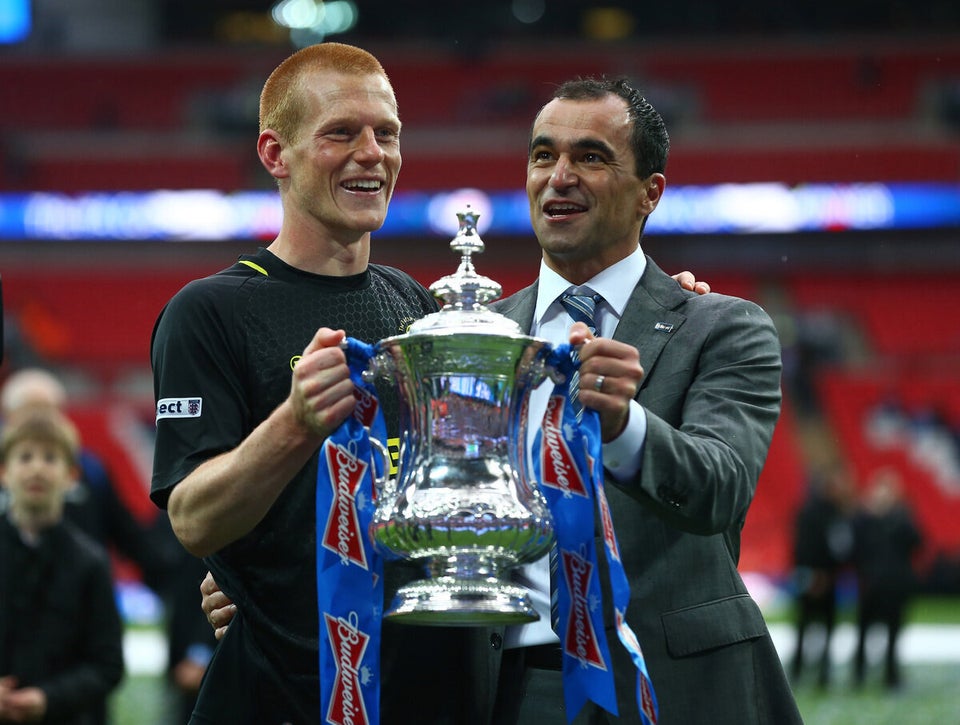 Samir Nasri, who has thrived since Mancini's public rollocking in March, departed for James Milner and barely acknowledged his manager as he returned to the bench. With the conservative Milner now on, Yaya Touré was granted licence to roam forward.
Agüero was furious when Marriner refused to give a penalty after Paul Scharner tripped him over, although the controversy was minimised when replays showed the striker was in an offside position, even if the flag was not raised.
Zabaleta, whose characteristic forays forward were conspicuous by their absence, finally burst into Wigan's box and produced an inviting cross into the corridor of uncertainty, alas none of his teammates were certain enough with the timing of their runs.
After a quiet spell it was the ebullient McManaman who raised Wigan fans' spirits, humiliating Clichy again, only his shot was delayed and Gareth Barry kept the game scoreless.
Milner tested Joel with a firm header which the on-loan Spaniard held before McManaman caused consternation in City's third again as he drew a foul from Matija Nastasić, who was booked. Shaun Maloney pinged the top of Hart's crossbar from the resultant free-kick, although the effort was notably overcooked.
Then Zabaleta's luck ran out. All of City's bookings had come from challenges on McManaman, and Zabaleta, having already tripped the Citizens' nemesis on the hour mark, executed a scything challenge on the former Everton schoolboy and became the third man to be red-carded in an FA Cup semi-final, after Kevin Moran in 1985 and José Antonio Reyes in 2005.
With City now edging back deeper and deeper, man of the match McManaman continued to wreak havoc. Granted a corner rather than a penalty for Clichy's challenge, Maloney stepped up to swing in what will be remembered as the most wondrous moment in Wigan's history. Watson stooped imperiously to flick on a superb header for one of the FA Cup's greatest shocks.