Italian football's reputation was besmirched again on Sunday night when AC Milan and Roma's Serie A draw was marred by racist chanting.
Two players were sent off at the Giuseppe Meazza but the flashpoint came shortly after half-time when play was suspended for two minutes by referee Gianluca Rocchi.
The Tuscan official used new league rules to halt play while a stadium announcement was issued to a section of Roma fans, who were heard directing abuse at several Milan players.
Milan coach Massimiliano Allegri condemned the chanting, after warnings were broadcast to the fans over the public address system, with Mario Balotelli increasingly victimised.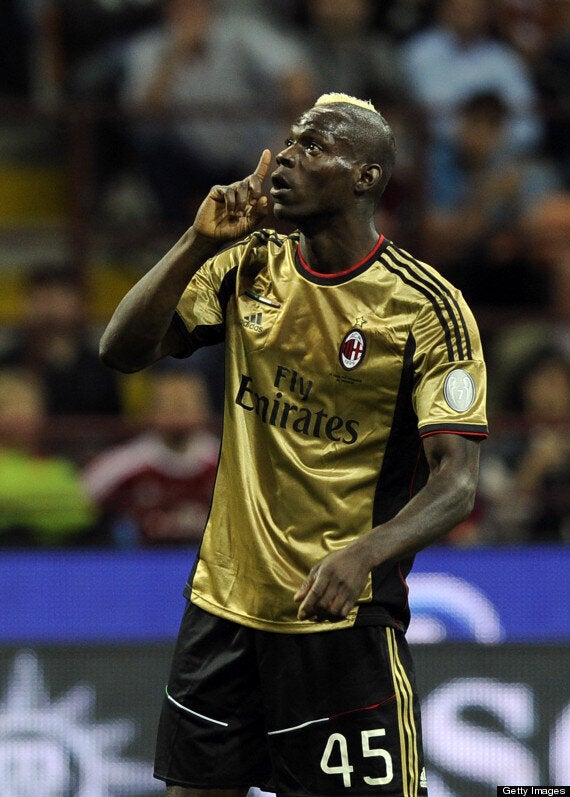 Balotelli gestures to Roma fans during the 0-0 draw
"People should go to the stadium to see two teams battling each other on the pitch, not this sort of thing, it's a place for the uncivilised," he told Milan's website
"Above all, the culture in Italy is backward – tonight we had racism, laser beams flashed in the eyes of players and an interrupted match."
He added: "Stopping the game doesn't work, it's a happy medium and like all happy mediums, it doesn't do anybody any good.
"Balotelli was defeated this evening, he gave everything, but he is 22 and subjected more and more to racist chants and that doesn't do him any good."
The Roma captain, Francesco Totti, was later dismissed in stoppage-time for elbowing and Sulley Muntari was booked and then sent off in the 41st minute for grabbing the referee's arm.