Ricky Gervais has admitted that, despite his massive royalty cheques for the US version of The Office, he has very seldom watched the show himself.
"Honestly? I don't think I've seen much of it," he tells GQ Magazine, "...It wasn't my baby. It was my rights, so I cashed the cheques. I think it was good, but I didn't have the same emotional attachment to it.
"It doesn't feel like it's mine. Now and again I'd watch one on a plane. I looked at the first few (scripts) and said 'great' and then I had things with elastic bands around them, I hadn't even opened them."
Gervais has tasted success with 'The Office', 'Extras' and most recently 'Derek', but it's still David Brent, lacking self-awareness, who is his most loved character, and responded to questions about whether he could turn out to have the same Achilles heel himself...
"This will sound arrogant: I don't worry about it at all. I think I'm pretty self-aware. I think I know what I'm doing. You know when you've been a prat, you know when you're being a prat, you know when something sounds pretentious. But you're right--by definition you don't know. It's funny, Christopher Guest said to me--we were talking about comedians we used to like and if people go off the boil--and he was basically saying: 'What if we become the people we don't rate anymore? What if we lose it and we don't know it?' And I went [grins], 'Who cares?'
Of people who criticise him now...
"They mean they don't like 'Derek' as much as 'Extras'? Science as much as Animals [two of his stand-up specials]? They mean they don't like me. That's what they mean. So they're trying to justify their dislike in a critical response. That's what I think, if I'm being brutally honest. They have to say 'The Office' was good--they have to. Not because it was, but because most people think it was. But I do love that Joseph Heller quote. A journalist said, 'If I'm being honest, I don't think you've ever written anything as good as Catch-22.' And Joseph Heller said, 'Who has?'"
Gervais's success has brought him friendship with some of his childhood idols, for example David Bowie, who appeared in a cameo role in an episode of 'Extras'...
"I don't think he knew who I was at the time, and then I got an e-mail from him saying, "So I watched that Office. I laughed. What do I do now?
"I said, 'That's weird. I just replaced Aladdin Sane on CD and then I get an e-mail from its composer.' I just started mucking about. I think it was two performers liking each other's work.
"He introduced me at Madison Square Garden--you are asking! I got him to do a little thing in Extras. I remember we went round his flat, and it's exactly as you'd expect it to be--just beautiful and tasteful and modern, and there's this wonderful statue. And I went, "Oh, that's amazing." [slips into a perfect David Bowie impression] "Yeah, the artist, what he's trying to do there is do the 3-D representation of Picasso's 2-D representation of 3-D...[pauses]... My daughter likes to hit it with a hammer." I love people like that, because they're sort of aware of who they are. The first time he buzzed me in, the concierge called up [to his flat] and said, "Mr. Jones?" Of course he's Mr. Jones! He's not f*cking David Bowie! I met David Jones."
The GQ Comedy Issue goes on newstands 21 May.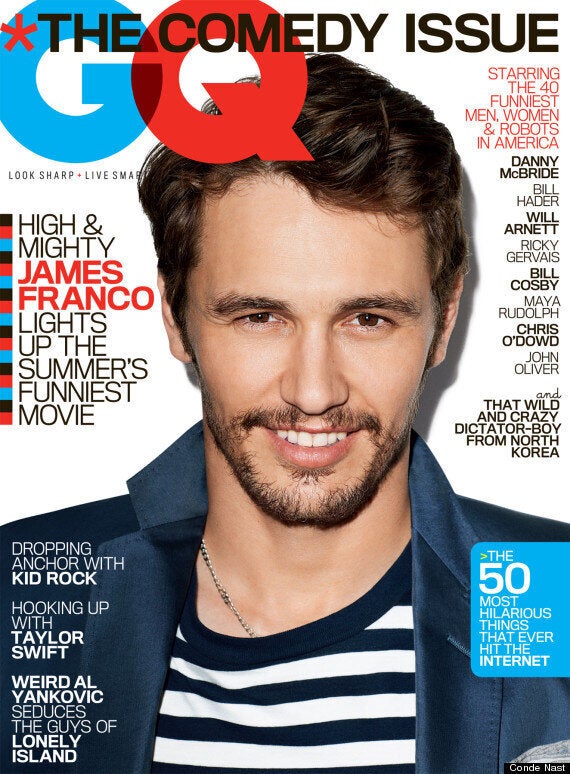 Read the full GQ interview HERE.
Related