Elmer Bernstein's The Great Escape theme, adopted by England fans in the 90s and then more pertinently by West Bromwich Albion in 2005, was supposed to be the theme of Wigan's season again. Forget "I'm a Believer", the club has evaded the drop on the final day on two out of seven Barclays Premier League seasons and optimism was rife that the escapologists would pull it off again.
Bernstein's classic score was blared out at Wembley after Wigan Athletic registered the greatest day in the club's history on Saturday, only lifting silverware was merely their John Leyton and Charles Bronson respite. Last week's defeat to Swansea City was effectively the moment Gordon Jackson fatefully uttered the words, "Thank you" and then, at the Emirates Stadium, Wigan crashed as spectacularly as Steve McQueen and the escape was over.
Roberto Martínez said he was "shocked" by their relegation but few were. In the last two seasons seven wins from the final nine fixtures have kept Wigan in the top flight, with Liverpool, Arsenal and Manchester United among the scalps in last year's impressive run. That sequence of results prompted Liverpool owner John W Henry to discuss with Martínez about the possibility of him succeeding Kenny Dalglish at Anfield. The pair were pictured in America but, for one reason or another, Martínez remained at the DW Stadium.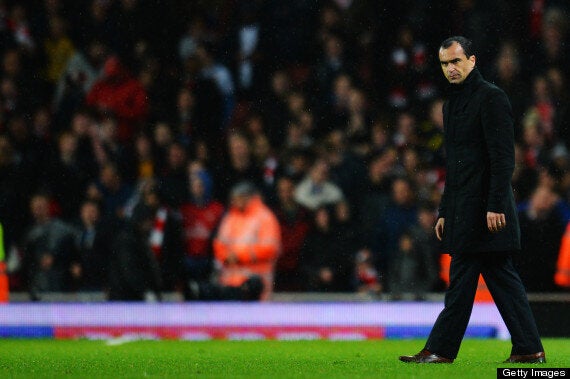 Martínez's Wigan finally succumbed to relegation
Liverpool have rarely been synonymous with prudence in the past two-and-a-half-years but overlooking Martínez was the correct call. He was flavour of the month after Wigan's vibrant football wowed neutrals and opponents alike, yet one swallow does not a summer make, and the flamboyant finale masked Martínez's naivety.
Overlooking the magnificent achievement of winning the FA Cup, in all four of Martínez's campaigns Wigan have been in a relegation dogfight. They actually finished with a paltry 36 points in his debut campaign, winning two of their final nine games, before edging up to 42 in 2010-11 and creeping up to 43 last season.
His fourth term in charge was seen as a chance for progression, and silverware should not mask a truly drastic downfall in Wigan's fortunes, with their annual spring onslaught finally failing them.
Arsenal, an inferior team than Manchester City, were quick to capitalise on a porous defence which was afforded the time to shore up by the ponderous Citizens. Wigan produced their finest defensive display not only at Wembley, but in the quarter and semi-finals of the FA Cup, when they kept clean sheets against Everton and Millwall. It can be as much a struggle juggling priorities as it is staying up.
Following the Wembley win, Martínez opened his press conference by apologising. "Sorry for the wait. We're not used to celebrating," he cheerfully said. Whereas most managers fresh from lifting silverware for the first time would sup from a glass of champagne, Martínez opted for a hot beverage.
The dressing room celebrations were a teetotal affair, he assured us, and he refused to renege on his pledge that winning the FA Cup would mean nothing if Wigan were relegated.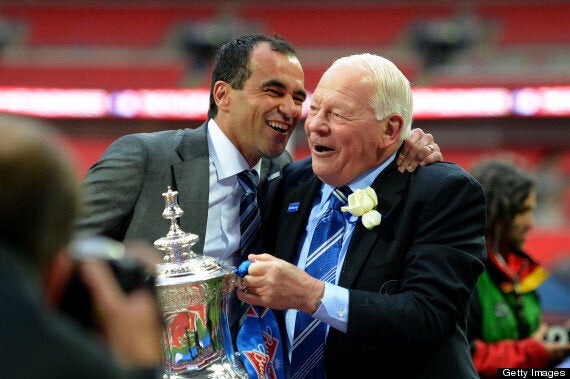 Wigan are the first team to win the FA Cup and be relegated
"Nobody will take away the trophy, winning the FA Cup is something special and is inspirational to other football clubs, but we are in Europe next season and you need to play at the top level to move onto the next level," he added. He was notably unsure when asked whether his players would be able to physically match Arsenal after the elation of the cup win.
In the end, they resembled Ian Holloway's maverick Blackpool team of 2010-11. Impressive for an hour, the Latics quickly tired and the final 30 minutes of their 4-1 loss resembled an exhibition match. It was unfair on Wigan that television [due to the Europa League final] dictated they play a night earlier, while Martínez had already reminded the press on Saturday just how many players were unavailable through injury. His favoured left-sided partnership of Jean Beausejour and Maynor Figueroa would almost certainly have dealt better with Santi Cazorla when he assisted Theo Walcott's goal to make it 2-1.
Martínez has defeated the top seven sides during his Wigan tenure but his team's penchant for trouble reflects unfavourably on a bright manager.
Wigan, as a club, with their four-figure attendances, are one of the most unattractive in the Premier League, yet Martínez moulded a forward-thinking and ebullient team with a continental flavour which treated supporters for four years, despite the heart palpitations.
Whether it was survival or relegation, the 39-year-old was destined to depart this summer and he is deserving of a job as big as that at Everton, eviscerated 3-0 by Wigan in the last eight of the FA Cup.
They were a little too gung-ho but although Wigan are back to the cooler of the Championship, they can at least be as optimistic as McQueen, bouncing his baseball.
Popular in the Community