Marouane Fellaini could play his final Everton game at Chelsea on Sunday, but he has left supporters with a silver lining, courtesy of his new hair colour.
Fellaini dyed his hair silver for one night only in the name of charity, having agreed to the colour change after challenging Evertonians to raise £25,000 by May 16, which they accomplished.
The Belgian showed off his new barnet at the club's end of season awards at St George's Hall, where the Toffees also celebrated the 25th anniversary of the Everton in the Community charity.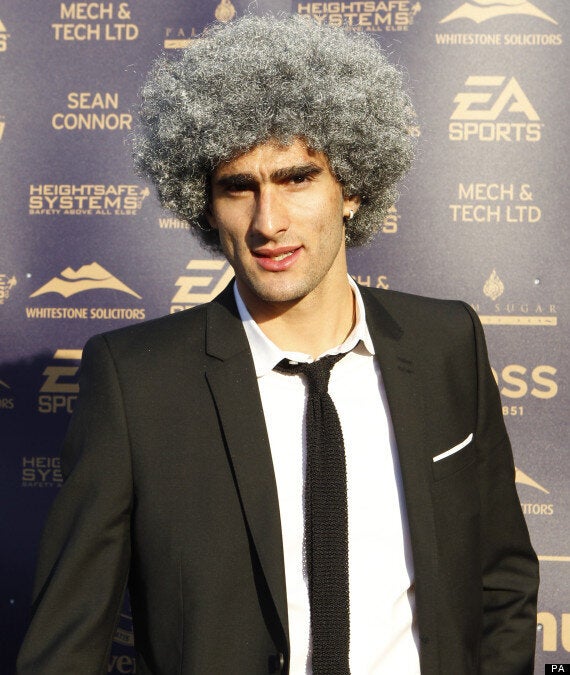 Fellaini shows off his new barnet at St George's Hall
"It is for a good cause, it is for charity and if I can help the people, I will," Fellaini chirped. "I am happy. I am only keeping it for one night. I don't care whether I have the best hair or not. It's my style. I like it as it is – and Everton supporters like it too, so I am happy.
"Everton do lots of things for the charity, they help a lot of people. If I can help a little bit, I will do that. It doesn't matter which players help – it is just important that we all help. I like it.
"Maybe I will do it again with another colour now that silver is done. Maybe blue next for Everton!" Fellaini gives Hayley McQueen a breather by taking up the mic
However Fellaini has twice spoken this season of a desire to leave the club he joined for £15 million in 2008.
Irrespective of their result at Stamford Bridge this weekend, Everton are guaranteed to finish sixth in the Barclays Premier League.
Popular in the Community