José Mourinho's Real Madrid era ended disastrously as both he and Cristiano Ronaldo were sent off in their 2-1 Copa del Rey final defeat to city rivals Atlético.
Atléti's first win against Real since October 1999, the drought came in an undeserved and fractious fashion for the underdogs at the Bernabéu, with their midfielder Gabi also red-carded late on.
Ronaldo gave Real the lead but Diego Costa cancelled out his opener before the interval. Madrid then hit the woodwork three times as 90 minutes could not separate the two sides, with Atlético's cynicism and pragmatism frustrating Real, effectively the host team. Mourinho was sent to the stands for appealing a decision theatrically as the referee made a series of unfathomable decisions.
It was Brazilian defender Miranda's header eight minutes into extra-time which sealed Atléti coach Diego Simeone's second trophy in successive seasons, after last year's Europa League success.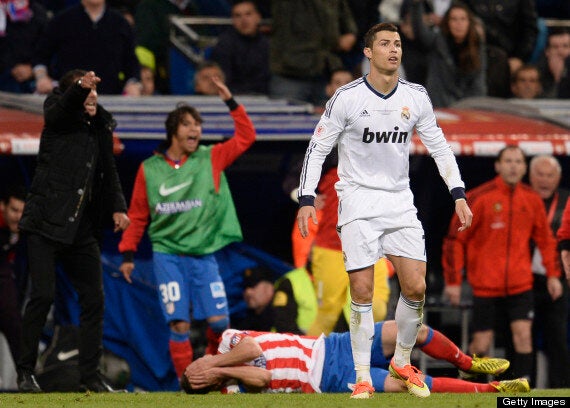 Ronaldo reacts after kicking Gabi, for which he was sent off
The referee flourished a red card after Ronaldo kicked out at Gabi, having been hacked down by the Spaniard. A brawl soon broke out between the two dugouts with Madrid defender Pepe, omitted from the matchday squad, unsurprisingly one of the antagonists.
On-loan Chelsea goalkeeper Thibaut Courtois made an astonishing save from the wasteful Mesut Özil in the final 15 of the 120 minutes to further heap woe upon Madrid, and Atléti held on to claim the bragging rights in the Spanish capital for the first time in nearly 14 years.
Mourinho will take charge of Madrid's final two matches in the Primera Liga, but he is expected to leave the club at the end of the campaign. It is the first time he has experienced a trophyless season since he was coach of União de Leiria.
"For many managers, this would have been a great season. For me, it's the worst of my career," he said afterwards, as Atléti partied like it was 1999.
Related