Another day, another domination for Taylor Swift: She was the red hot winner at the Billboard Music Awards.
Taylor won eight of 11 awards, including top artist and top Billboard 200 album for Red. She told the crowd: "You are the longest and best relationship I ever had."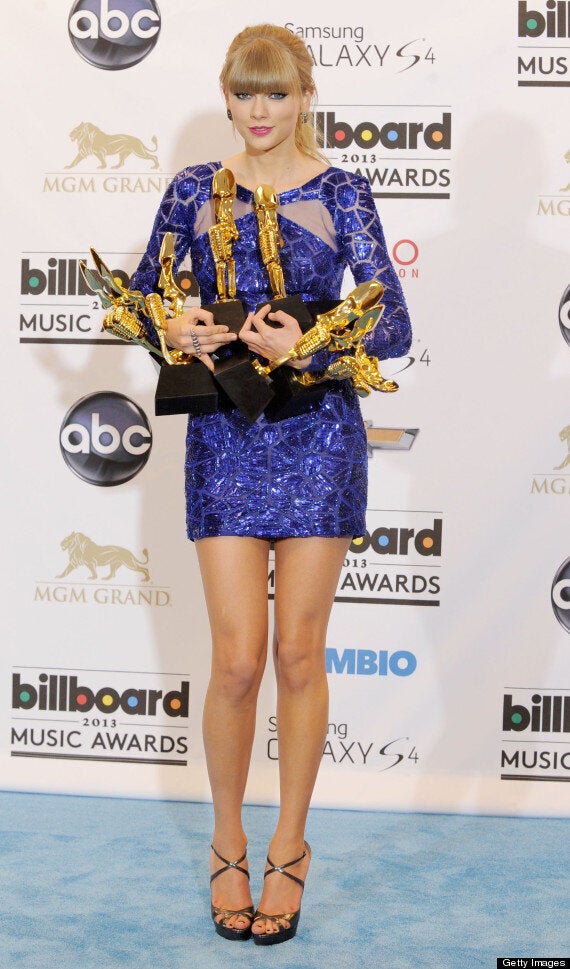 Taylor Swift took home eight awards
She also had a colourful performance of her hit '22' - starting backstage and working her way to the main stage on the back of a bike with help from a dozen background dancers and a flurry of red balloons.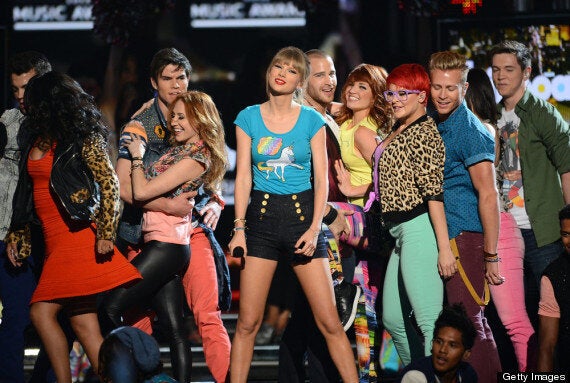 Taylor Swift performs at the Billboard Awards
Justin Bieber also performed - twice - and was also a multiple winner with three awards, including top male artist, social artist and the fan-voted milestone award, beating out Taylor and Bruno Mars. When accepting the latter - where boos were heard - he alluded to the tumultuous weeks he's had in the public eye.
"I'm 19 years old; I think I'm doing a pretty good job. And basically from my heart I really just want to say it should really be about the music, it should be about the craft that I'm making. This is not a gimmick," he said. "I'm an artist and I should be taken seriously and all this other bull should not be spoken."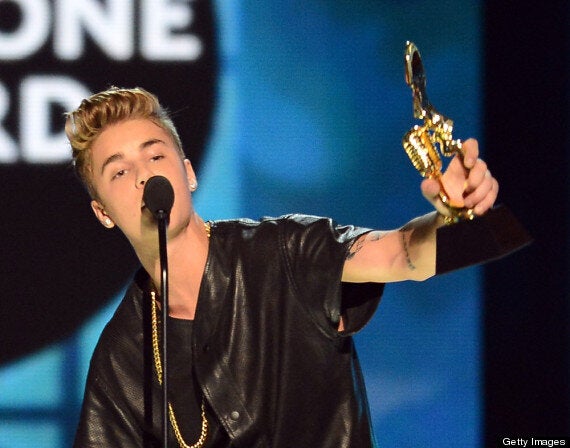 Justin Bieber was booed as he picked up his award
Justin performed with will.i.am and solo when he sang 'Take You' in leather pants, a leather vest and a black shirt that had one sleeve, as blue laser lights beamed.
Miguel, too, had a show-stopping performance, though he seemed to kick a fan when he jumped over the crowd while singing his hit Adorn. The R&B singer seemed to have landed part of his body on one woman, who walked away, and kicked another, who held her head low.
Maroon 5 and fun. were also nominated for 11 awards and walked away with one win each in pre-telecast announcements. Gotye and Rihanna had the second-most wins with four awards each.
One Direction also walked away with three awards, including Top Duo/Group and Top New Artist.
But the awards show, airing live from MGM Grand Garden Arena in Las Vegas on ABC, is less about the trophies - which reflect success on the Billboard charts - and more about the performances. Selena Gomez sang her seductive new hit, 'Come & Get It', while Chris Brown danced around the stage to his latest single, Fine China, though his voice began to crack during the performance. Duo Macklemore & Ryan Lewis also performed their massive hit, Thrift Shop, which won top rap song.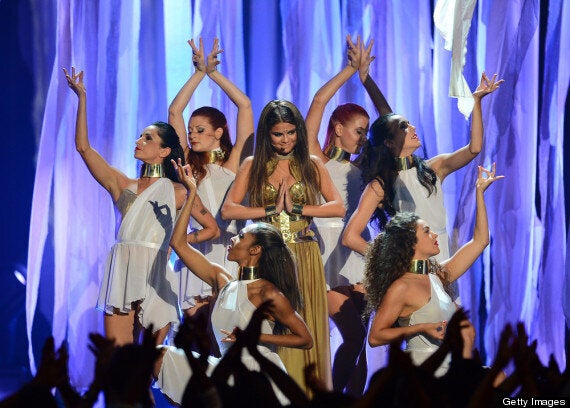 Selena Gomez also performed at the ceremony
Nicki Minaj won the first award in the live telecast for top rap artist, beating out Drake, Flo Rida, Pitbull and Psy. Prince, who received the icon award, closed the awards show with a melody of his jams in a turquoise and purple ensemble. He sang, dance and rocked on the guitar.
Full winners list follows below...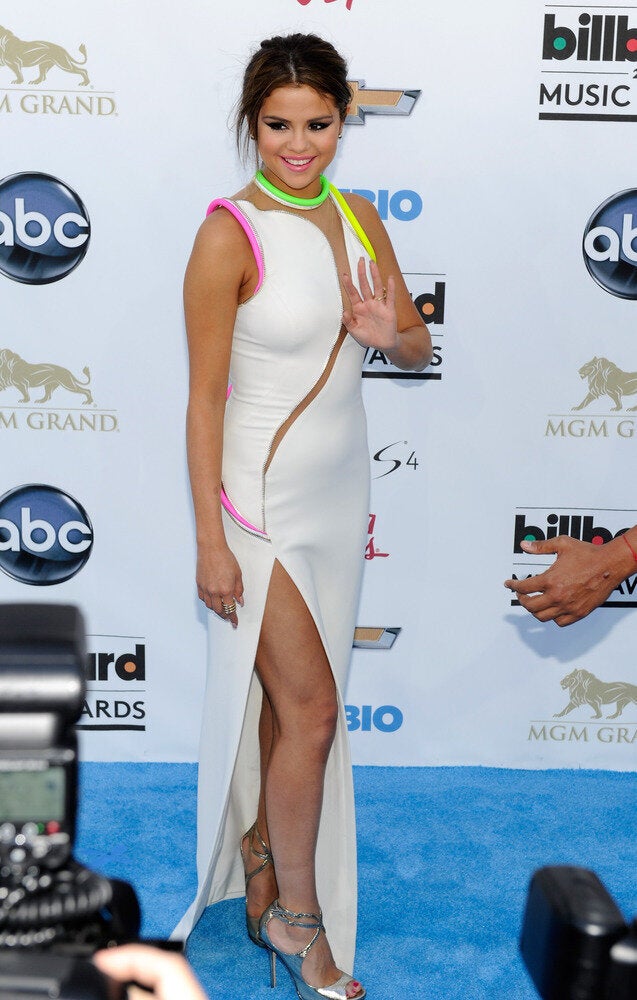 Billboard Awards 2013
'Somebody That I Used To Know' - Gotye feat. Kimbra - WINNER
'Call Me Maybe' - Carly Rae Jepsen
'One More Night' - Maroon 5
'Payphone' - Maroon 5 feat. Wiz Khalifa
Take Me Home - One Direction
Up All Night - One Direction
Red - Taylor Swift - WINNER
Take Me Home - One Direction
Up All Night - One Direction
Girl On Fire - Alicia Keys
Channel Orange - Frank Ocean
Unapologetic - Rihanna - WINNER
Based on a T.R.U. Story - 2 Chainz
Good Kid, M.A.A.D City - Kendrick Lamar
The Heist - Macklemore & Ryan Lewis
Pink Friday: Roman Reloaded - Nicki Minaj - WINNER
God Forgives, I Don't - Rick Ross
Night Train - Jason Aldean
Tailgates & Tanlines - Luke Bryan
Red - Taylor Swift - WINNER
Blown Away - Carrie Underwood
The Lumineers - The Lumineers
Babel - Mumford & Sons - WINNER
My Head is an Animal - Of Monsters and Men
The World From The Side of the Moon - Phillip Phillips
Joyas Prestadas: Banda - Jenni Rivera
Joyas Prestadas: Pop - Jenni Rivera
La Misma Gran Señora - Jenni Rivera - WINNER
Formula, Vol. 1 - Romeo Santos
Nothing But The Beat - David Guetta
>Album Title Goes Here< - Deadmau5
Sorry for Party Rocking - LMFAO
Nothing But The Beat - David Guetta
>Album Title Goes Here< - Deadmau5
Bangarang - Skrillex - WINNER
Scary Monsters & Nice Sprites - Skrillex
Until Now - Swedish House Mafia
Come To The Well - Casting Crowns
The Hurt & the Healer - MercyMe
Eye On It - tobyMac - WINNER
Wow Hits 2013: 30 of Today's Top Christian Artists & Hits - Various Artists
'We Are Young' - Fun. feat. Janelle Monae
'Somebody That I Used To Know' - Gotye feat. Kimbra
'Call Me Maybe' - Carly Rae Jepsen - WINNER
'Thrift Shop' - Macklemore & Ryan Lewis feat. Wanz
'Payphone' - Maroon 5 feat. Wiz Khalifa
'Somebody That I Used To Know' - Gotye feat. Kimbra - WINNER
'Call Me Maybe' - Carly Rae Jepsen
'One More Night' - Maroon 5
'Payphone' - Maroon 5 feat. Wiz Khalifa
'Locked Out of Heaven' - Bruno Mars
Top Streaming Song (Audio)
'We Are Young' - Fun. feat. Janelle Monae
'Somebody That I Used To Know' - Gotye feat. Kimbra - WINNER
'Lights' - Ellie Goulding
'Call Me Maybe' - Carly Rae Jepsen
Top Streaming Song (Video)
'We Are Young' - Fun. feat. Janelle Monae
'Call Me Maybe' - Carly Rae Jepsen
'Thrift Shop' - Macklemore & Ryan Lewis feat. Wanz
'Gangnam Style' - PSY - WINNER
'We Are Never Ever Getting Back Together' - Taylor Swift
'Lights' - Ellie Goulding
'Call Me Maybe' - Carly Rae Jepsen - WINNER
'One More Night' - Maroon 5
'Payphone' - Maroon 5 feat. Wiz Khalifa
'Locked Out of Heaven' - Bruno Mars
'Girl On Fire' - Alicia Keys feat. Nicki Minaj
'Thinkin Bout You' - Frank Ocean
'Diamonds' - Rihanna - WINNER
'Heart Attack' - Trey Songz
'Wild Ones' - Flo Rida feat. Sia
'Mercy' - Kanye West, Big Sean, Pusha T, 2 Chainz
'Thrift Shop' - Macklemore & Ryan Lewis feat. Wanz - WINNER
'Drunk On You' - Luke Bryan
'Springsteen' - Eric Church
'Cruise' - Florida Georgia Line
'We Are Never Ever Getting Back Together' - Taylor Swift - WINNER
'We Are Young' - Fun. feat. Janelle Monae
'Somebody That I Used To Know' - Gotye feat. Kimbra - WINNER
'Home' - Phillip Phillips
'Bailando por el Mundo' - Juan Magan feat. Pitbull & El Cata
'Dutty Love' - Don Omar feat. Natty Natasha
'Hasta Que Salga El Sol' - Don Omar
'Ai Se Eu Te Pego' - Michel Teló - WINNER
'Algo Me Gusta De Ti' - Wisin & Yandel feat. Chris Brown & T-Pain
'Harlem Shake' - Baauer - WINNER
'Titanium' - David Guetta feat. Sia
'Starships' - Nicki Minaj
'Where Have You Been' - Rihanna
'Harlem Shake' - Baauer - WINNER
'Titanium' - David Guetta feat. Sia
'Feel So Close' - Calvin Harris
'Sweet Nothing' - Calvin Harris feat. Florence Welch
'Don't You Worry Child [Edit]' - Swedish House Mafia feat. John Martin
'Redeemed' - Big Daddy Weave
'Where I Belong' - Building 429
'God's Not Dead (Like A Lion)' - Newsboys
'10,000 Reasons (Bless The Lord)' - Matt Redman - WINNER
'Me Without You' - tobyMac