It's an unwritten rule that actors never slag off their co-stars in public, but Jason Isaacs, currently starring as Jackson Brodie in 'Case Histories', obviously feels more strongly than most.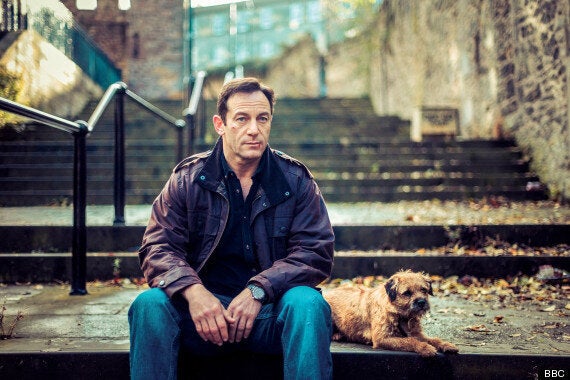 Jason Isaacs with his co-star Crunchy - "never again!"
"That f***ing dog," he exclaims of cute co-star The Ambassador, played by Crunchy, some sort of unidentifiable but appealing hound. "It didn't do a thing it was meant to, I spent months covered in sausage meat, and they had to replace my dialogue in almost every scene.
"By the magic of editing and wishful thinking, they've made it look like we've got this great relationship, but if anyone's thinking of hiring this dog - don't!"
Furry face-offs aside, the Harry Potter star is delighted to be returning to the screen in a new set of mysteries for private investigator Jackson Brodie, last seen in the arms of elusive love Louise Monroe. True to form, this first new episode (on iPlayer, our review here) finds him "having right royally f***ed up" according to Isaacs, who delights in his character's flaws.
"I wanted to see what was going to happen to him and his disastrous personal life. Brodie's a human being, always shagging the wrong person. He's a modern-day faceted hero, helping other people solve their problems, while incapable of sorting out his own. We all know that person.
"This is not a love story, but Kate Atkinson (writer) has made him a detective of the soul, much more than of fingerprints. I would always do more of this character. He's an heroic idiot - what else is there?"
Even before he was given the screen role, Isaacs had recorded the audio books of the same series - "I was all the characters, doing all the different voices. When I came to do the telly version, it was actually quite odd to see other people turning up."
'Case Histories' Episode 1 is on iPlayer. Episode 2 is next Sunday at 8.30pm.