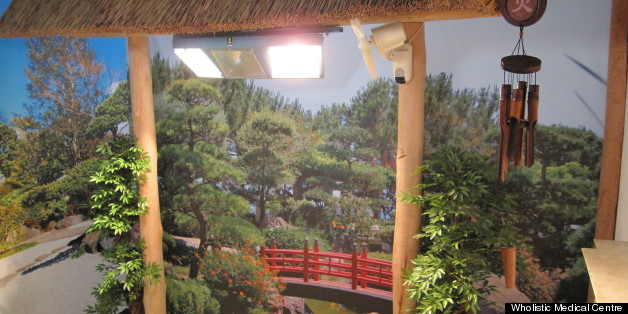 Wholistic Medical Centre
Can the health benefits of real sunshine ever outweigh the health risks associated with it? New reports in the media certainly seem to think so and so does Dr Daya of the Zen Sunlight Room.
Although I've never been a sun worshipper, the severe lack of summer we've had this year makes the idea of trying out some 'safe' sunlight on a miserable evening in London an appealing prospect.
The Zen Sunlight Room claims that it can offer 100% safe health-giving sunbathing all year round to help with a variety of ailments, such as Seasonal Affective Disorder (SAD), acne and eczema, poor circulation and insomnia.
The sunlight room at the Wholistic Medical Centre is carefully monitored, so that harmful UV rays, which encourage skin ageing and skin cancer, are reduced to safer levels compared with natural sunlight.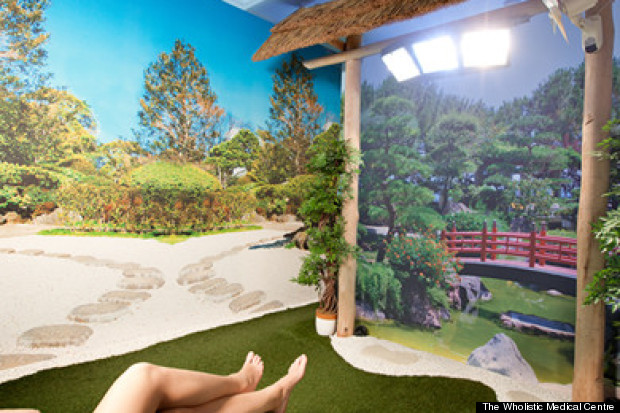 The room itself looks (in my imagination) like Sting's mediation room: there's fake grass masquerading as carpet complete with stepping stones; the walls are painted with floor to ceiling beach and garden murals and there's even a Buddha water feature in the chimney breast.
Dr Daya gives me the Mauritius treatment – 45 minutes of bright, warm sunlight and 15 of pink-tinged sunset. The lamps come on full blast and it's bright enough to make them hard to look at for the first 10 minutes. While goggles are provided, or you can wear your sunglasses, Dr Daya recommends exposing yourself to the full blast of the light for maximum benefit.
I'll admit that for the first half of the session I was left twiddling my thumbs and feeling restless. Soon, however, the novelty of being in a bikini on a rainy day in London and the sensations of warmth and relaxation washed over my body, and it felt like I was being lulled into holiday mode.
Wooden wind chimes were rattling in the fan breeze and music was pumped through the room at suitably Zen-like volumes, all adding to the calming experience: think sitars, pan pipes and Enya.
I'm genuinely wary of treatments that offer 'safe sun tanning' and I can't say that after one session that I noticed any difference in my poor circulation or sore neck muscles. I did however see a glow in my skin and felt a definite sense of calm and wellbeing after one post-work hour in the Sunlight Room.
This isn't a quick fix and Dr Daya said that it's her regular patients who have noticed significant improvements in mood, stamina and sleep patterns. At £50 for a one-hour session though, I can't help but wonder if hopping on a plane to Europe and experiencing some of those dangerous rays in moderation would do just as well.
But, if you're after a post-work pick me up to soak up some guaranteed safe rays then you should give the Zen Sunlight Room a go.
A single session at the Zen Sunlight Room is £50 or £40 for Dr Daya's patients. Pre-pay for a course and get the 6th session free.