'Vikings' is the latest chest-beating historical drama to make its way to our screens, from the safe pen of Hirst, who previously brought 'The Tudors' to lusty life, and both films of 'Elizabeth' (Cate Blanchett) to the big screen.
"I didn't want any cliched heroes, because it's quite an unorthodox show, but I needed somebody physical," he tells HuffPostUK. "We kept being offered lots of very pretty English actors, but they didn't look like they could lift an axe, never mind use it.
"So the money was running out, someone was in the frame, but at the last minute my wife watched the reels again, and she said, 'He's not Ragnor', and I had to agree. Didn't make me very popular with the network bosses, but..." he shrugs... "what can you do?"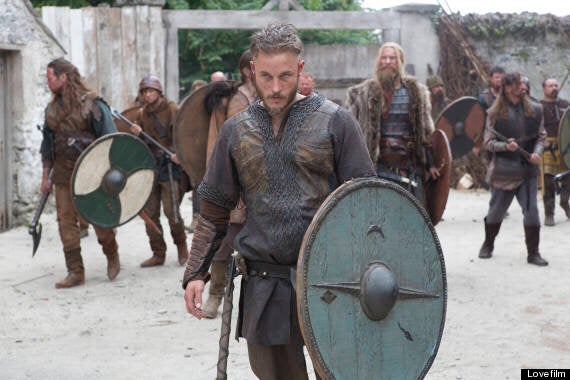 Travis Fimmel wasn't Michael Hirst's first choice, but he was the right choice for Ragnar Lothbrok
Meanwhile, Australian actor Travis Fimmel had made a film of himself, from his farm kitchen at home. As Hirst describes it, "he didn't try to be a Viking, he had this deep Aussie accent, but he had depth, stillness and he believed what he was saying. Both myself and the director saw something, we had one of THOSE moments..."
'VIKINGS' launches exclusively on Amazon's LOVEFiLM in the UK this Friday, May 24th. All nine episodes will be available to stream at once across all LOVEFiLM Instant enabled devices, including Xbox 360, Playstation 3, Wii and Wii U, iPad, Kindle Fire and Kindle Fire HD, PC, Mac, and internet-connected devices from Sony, Samsung and LG.
WATCH the trailer for 'Vikings' below...