Roberto Martínez was left in no doubt how much Wigan fans want him to stay on as manager as the club celebrated their FA Cup triumph with a parade through the town centre on Monday.
The squad and the backroom staff boarded an open-top bus at their Christopher Park training ground before making their way into the Market Place, where thousands of supporters were waiting to welcome them.
Relegation from the Barclays Premier League certainly had not dampened the spirits of Latics fans as they once again revelled in the shock 1-0 victory over Manchester City nine days ago that earned Wigan the first major trophy in the club's history.
So many people crowded into the Market Place that the bus had trouble getting through, but when the squad finally did make it on to the stage, there was only one message the fans wanted to get across.
As Martínez took the microphone, he had to ask the crowd to quieten down as the chant of, 'Roberto Martínez, we want you to stay', filled the air.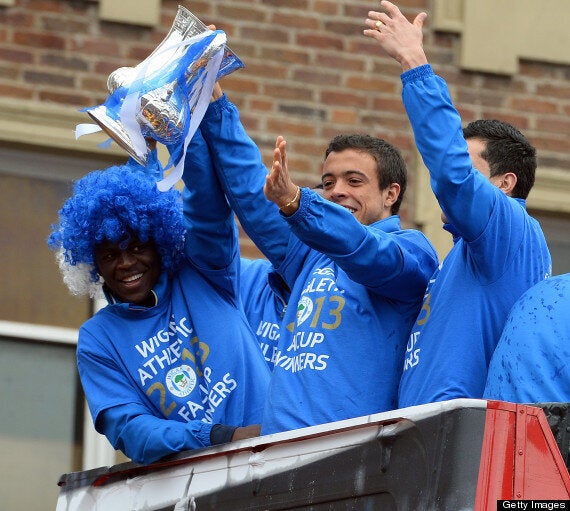 Striker Franco di Santo hoists the cup
The Spaniard, who first joined the club in 1995 as player and has been manager for the last four years, is the favourite to take over from David Moyes at Everton, while he has also been linked with the Malaga post in his home country.
When he was able to speak, he said to the crowd: "Let me tell you two things. One - we are the FA Cup winners. Two - we've got a special group of players and backroom staff that make Wigan Athletic proud.
"And without your support that would never happen, so we want to thank you from the heart."
Martínez is scheduled to meet with chairman Dave Whelan in a week's time to discuss his future as Wigan prepare for their first season back in the Championship after eight years in the top flight.
There will be significant changes to the playing squad as well, but winning the FA Cup is likely to remain the pinnacle for many of them.
Club captain Gary Caldwell said: "It's incredible to see so many people come out. For the town it's a great day and the boys will remember this for the rest of their lives."
Related