Uriah Heep and Spiders From Mars bassist Trevor Bolder has died following a battle with cancer, aged 62.
Bolder joined David Bowie's backing band in 1971, appearing on classic albums including Hunky Dory and Aladdin Sane. He went on to join Uriah Heep five years later and only stopped playing with the band a few months ago, due to his poor health.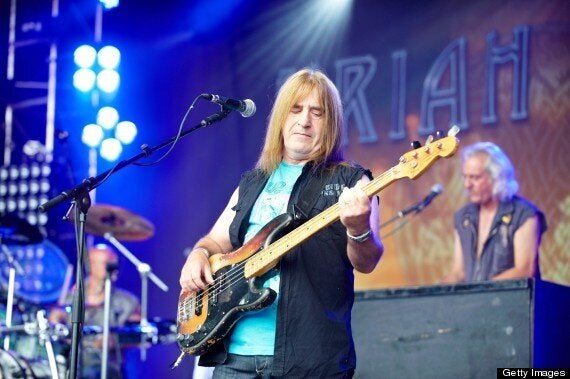 Trevor Bolder of Uriah Heep
Tributes were paid to him as a "world-class" rock musician.
Bowie said on his website: "Trevor was a wonderful musician and a major inspiration for whichever band he was working with. But he was foremostly a tremendous guy, a great man."
A statement from Uriah Heep said: "It is with great sadness that Uriah Heep announce the passing of our friend the amazing Trevor Bolder, who has passed away after his long fight with cancer. Trevor was an all-time great, one of the outstanding musicians of his generation, and one of the finest and most influential bass players that Britain ever produced.
"His long time membership of Uriah Heep brought the band's music, and Trevor's virtuosity and enthusiasm, to hundreds of thousands of fans across the world. He joined the band in 1976 and, barring one short break, was a fixture until his ill health forced him to take a step back early this year.
"Prior to joining Heep he was a founder and ever-present member of David Bowie's legendary Spiders From Mars band, performing on all of their key albums and at countless shows. He also performed with Wishbone Ash, Cybernauts and The Rats."
Lead guitarist Mick Box said: "Trevor was a world-class bass player, singer and songwriter, and more importantly a world-class friend. He will be sadly missed by family, friends and rock fans all over the world. We are all numb to the core."
Related