Sergio García has apologised for what could be construed as a racist remark about Tiger Woods at the European Tour's annual awards ceremony.
During a question and answer session hosted by the Golf Channel's Steve Sands, the Spaniard was asked if he would have the world number one around for dinner one night during the upcoming US Open.
"We will have him round every night," García said. "We will serve fried chicken."
García later issued a statement through the European Tour, saying: "I apologise for any offence that may have been caused by my comment on stage during The European Tour Players' Awards dinner.
"I answered a question that was clearly made towards me as a joke with a silly remark, but in no way was the comment meant in a racist manner."
García's remark was similar to one made by Fuzzy Zoeller to Woods in 1997. After Woods won the Masters which entitled him to choose the champions' dinner menu for the following year, Zoeller said: "You pat him on the back and say congratulations and enjoy it and tell him not to serve fried chicken next year. Got it? Or collard greens or whatever the hell they serve." Zoeller later apologised and said he had been misconstrued.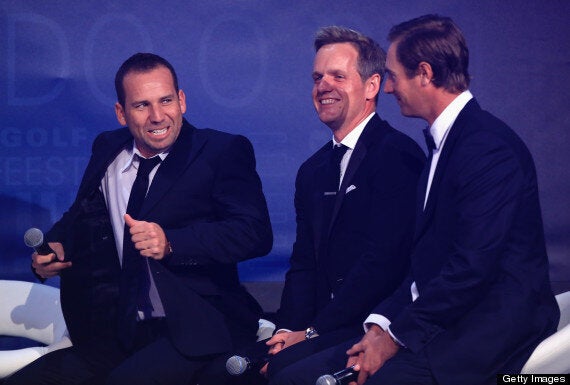 Garcia with Luke Donald and Nicolas Colsaerts at the European Tour Dinner prior to the PGA Championship
Just hours earlier, García told reporters ahead of the BMW PGA Championship at Wentworth that there was no end in sight to his spat with Woods, which resurfaced after the pair had played together in the third round at Sawgrass.
García felt he had been disturbed on his approach to the second hole when spectators cheered Woods for taking a fairway wood out of his bag, indicating he would try to reach the green from his position in the trees.
"He's not my favourite guy to play with," the Spaniard said. "He's not the nicest guy on Tour. We don't like each other. It doesn't take a rocket engineer to figure that out. He is who he is. I am who I am. It's best we're not playing together again."
Asked on Monday if he would call García to clear the air, Woods simply said 'No'.
And García said yesterday: "Obviously you can't like everybody. I think there's people that you connect with and there's people that you don't. It's pretty much as simple as that.
"He doesn't need me in his life, I don't need him in mine, let's move on and keep doing what we're doing.
"It's never really been a true connection like I would have with maybe Luke (Donald) or Lee (Westwood) or Adam Scott or some of the other guys that I get along with well.
"It's fine. It doesn't mean that I cannot play with him. It's just another player, obviously a good player.
"It's just when I'm playing with someone I enjoy, there's a bit more talking going round and when you're playing with someone that you don't fancy as much you're just a little bit quiet."
In 2011, Woods' former caddie Steve Williams labelled him a "black a*****e".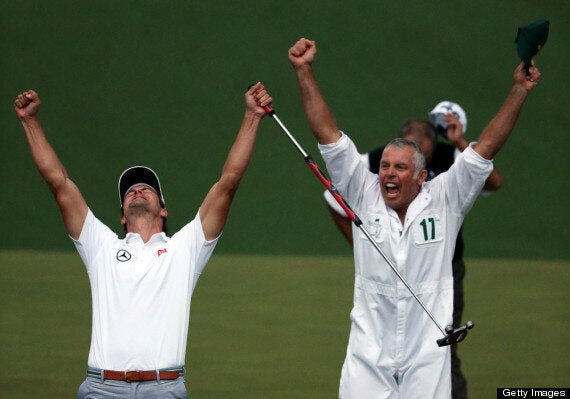 Williams celebrates Scott's US Masters win in April
Williams hailed his current employer Adam Scott's victory at the Bridgestone Invitational in August as "the best win of my career" - despite being on the bag with Woods for 13 majors.
Regarding Woods, he added: "It was my aim to shove it right up that black a*****e."
Williams later posted an apology on his website, but was retained by Scott, who won the US Masters in April.