During a question and answer session hosted by the Golf Channel's Steve Sands, García was asked if he would have the world number one around for dinner one night during the upcoming US Open. "We will have him round every night," said the 33-year-old Spaniard. "We will serve fried chicken."
Woods has labelled the remark as "wrong and hurtful," but believes there is "real regret" that it was made.
The Spaniard, who has been involved in a public row with Woods since the Players Championship at Sawgrass this month, was on stage with the rest of the victorious Ryder Cup team, including captain José María Olazábal, at the European Tour's annual awards ceremony on Tuesday evening when he made the comment.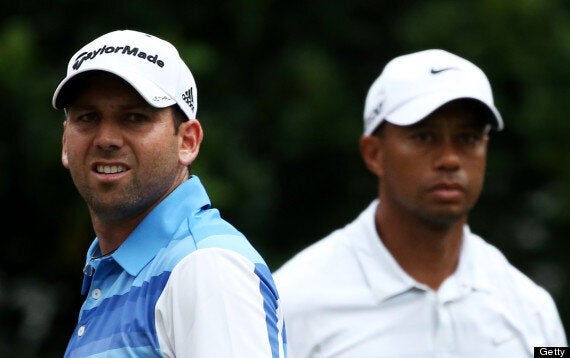 García and Woods' rivalry worsened this week
García's remark was similar to one made by Fuzzy Zoeller to Woods in 1997. After Woods won the Masters which entitled him to choose the champions' dinner menu for the following year, Zoeller said: "You pat him on the back and say congratulations and enjoy it and tell him not to serve fried chicken next year. Got it? Or collard greens or whatever the hell they serve." Zoeller later apologised and said he had been misconstrued.
Woods wrote on Twitter "The comment that was made wasn't silly. It was wrong, hurtful and clearly inappropriate...I'm confident that there is real regret that the remark was made. The Players ended nearly two weeks ago and it's long past time to move on and talk about golf."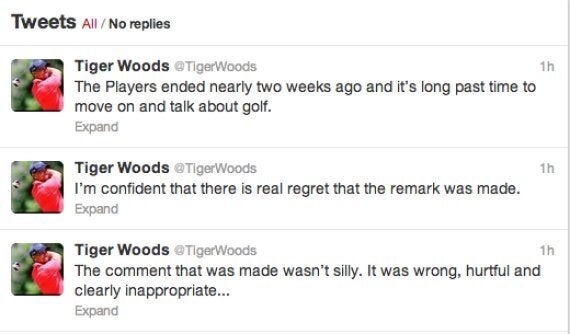 Woods tweeted his hurt on Wednesday
Asked about his quote at Wentworth, García was contrite.
"I didn't really sleep at all, I felt my heart was going to come out of my body."
"My answer was totally stupid and out of place. I feel sick about it."
In 2011, Woods' former caddie Steve Williams labelled him a "black a*****e".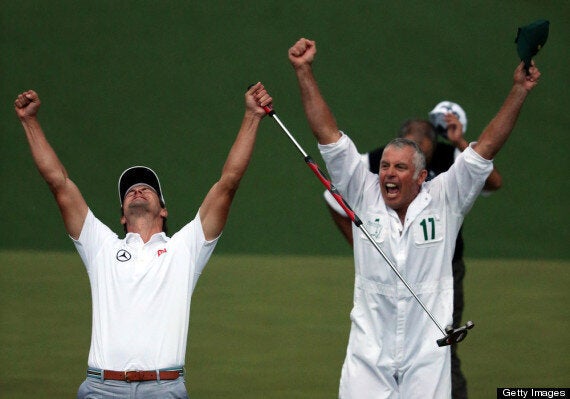 Williams celebrates Scott's US Masters win in April
Williams hailed his current employer Adam Scott's victory at the Bridgestone Invitational in August as "the best win of my career" - despite being on the bag with Woods for 13 majors.
Regarding Woods, he added: "It was my aim to shove it right up that black a*****e."
Williams later posted an apology on his website, but was retained by Scott, who won the US Masters in April.
García could find himself in hot water with the European Tour, whose code of behaviour states that: "On becoming a member each person voluntarily submits himself to standards of behaviour and ethical conduct beyond those required of ordinary golfers and members of the public.
"The European Tour has been the hallmark of honesty, fair dealings, courtesy, and sportsmanship and each member is bound to honour and uphold that tradition at all times whether on or off the golf course."
Possible sanctions include a reprimand, censure, fine, suspension of membership or even expulsion from the European Tour.
Related