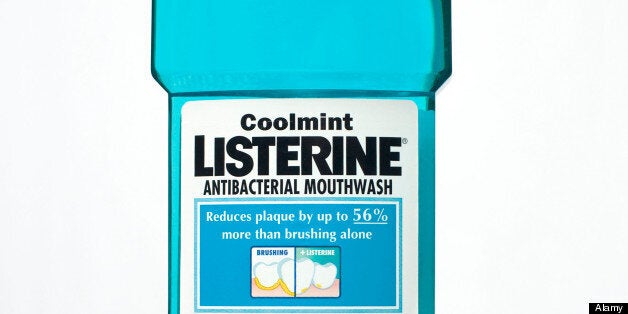 An ad for Listerine mouthwash has been banned for misleadingly suggesting that such products are necessary for dental health.
The radio ad featured a voice asking: "So sir, are you ready to order?" with a man replying: "Yeah, I'll get the crispy duck to start and a few fingernails to nibble on, two biros and a pencil, an envelope, garlic bread, a slice of cheesecake, oh and perhaps a bus ticket."
A voice-over then said: "It's amazing what your mouth goes through, and brushing alone isn't enough. Try the Listerine routine for 21 days and if you don't love how clean your mouth feels we'll give you your money back. Listerine Total Care. For total oral health."
One listener complained that the claim "brushing alone isn't enough" was misleading and could not be substantiated.
Defending the ad, Johnson & Johnson said a 2009 survey found that despite 75% of the population brushing their teeth at least twice a day and a further 23% brushing once a day, there were still high incidences of oral health issues.
It said the key concerns for consumers were gum disease, tooth decay, bad breath, tooth staining, losing teeth, plaque, cavities, tartar, fillings and bleeding gums, and provided 10 studies to support its claim that Listerine contained
ingredients to help protect against all of these.
Johnson & Johnson added that it did not believe the claim implied that the dental community recommended the use of a mouthwash to maintain oral health, and said the ad did not suggest or imply professional involvement or endorsement.
However the ASA said consumers would understand the claim "brushing alone isn't enough" to mean that it was generally accepted within the dental community that a mouthwash should also be used.
It said: "Although we understood that most oral health advice emphasised the importance of cleaning in between teeth in addition to brushing, we had not been provided with evidence that it was generally accepted within the dental community that the use of a mouthwash was necessary to maintain oral health.
"We therefore concluded the claim was misleading and had not been substantiated."
It ruled that the ad must not be broadcast again in its current form.
Johnson & Johnson said: "We are disappointed with this decision as we believe we have strong evidence to back up the claim that has been questioned.
"The ruling requires that we stop airing the advert in its current form and we will comply with this decision. We stand behind the validity of the claim and are considering our options including the independent review process of the ASA.
"We value the trust that consumers and dental healthcare professionals place in our products and are committed to ensuring open and clear communications with them. It is not our intention to mislead in any way."