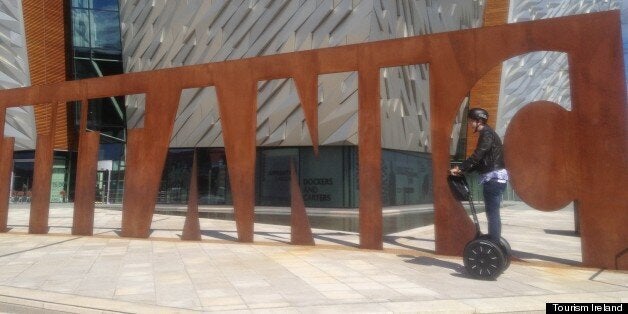 DJ Phil Taggart is best known for the late night radio slot on Radio 1 he shares with Alice Levine, if you've ever caught the show you'll know his roots lie in Northern Ireland. We caught up with the man himself to chat more about his favourite things about his home country and his passion for music - and fishing!
What do you think is the best thing about Belfast?
My favourite things about Belfast are the buzzing nightlife and the amazing music scene. I lived in smaller parts of Northern Ireland before I moved to Belfast and I lived in a small town called Omagh where there wasn't much going on musically. Going from a small town and moving to a big city you don't understand how many things there are to see and do, I mean you could literally be out every night if you wanted to, going to see really good, original bands and proper good, brilliant House DJs and Techno music.
What's Belfast's best live music venue?
It's a tie between the Mandela Hall and The Limelight. The Mandela, which has a thousand capacity, a really good sound system and gets lots of touring bands visiting. It's a small place but it has all you want in a venue. And then you've got this complex called The Limelight, which caters to others tastes. There's a small bar at The Limelight where you can see acoustic musicians and some beats and then there's a bigger place for touring and local bands. It's always open and there's always a gig on.
There's also a really cool club called Love and Death bang in the middle of the city centre. It's a cocktail bar and does really, really good food and they don't get cheesy DJs in, it's really good Motown, rock n' roll and soul or really banging House, they've got the best booker in the country!
Where is your favourite place to eat?
My favourite place to eat in Belfast isn't actually a restaurant, it's a take away place called Boojum. It's a Mexican burrito place that does fajitas and burritos and it's ridiculous. They've opened up three places around town and by five or six o'clock it's queued out the door and around the corner. I don't think Belfast is well known for its Mexican food culture but it seems to make everything else paltry in comparison. Made in Belfast is really good if you want a proper night out like a romantic meal or a meal with friends and parents.
If you had a friend visiting for the day where would you take them?
I'd put them into one of the black cab taxi tours because you've got a proper local taking you around explaining the history of the area in their own unique and colourful way.
There's also this thing called the Terri Hooley music tour. He's a music legend in Belfast and there was a film made about him last year called Good Vibrations. He's got the wildest stories about John Lennon and Van Morrison and the punk days so he kind of takes you on an alternative tour: he takes you round all these little venues and streets where songs were made. Then I would probably take them to Laverys, which is one of the oldest pubs in Belfast.
What are Belfast's must-sees?
The Titanic exhibition opened last year and I've been twice, it's a fantastic opportunity to explore the story of the Titanic as you're taken on a journey from construction through to the infamous maiden voyage. There's also The MAC, which is a new art gallery and it's really impressive. It's four floors of art exhibitions and is like Belfast's answer to the Tate Modern.
Have you discovered any hidden gems in Belfast?
There's a really cool bar called McCues in the Cathedral Quarter. The Cathedral Quarter is really nice to just walk around, there are so many different bars and interesting murals. At night time it's probably the best place to go as you've got the really old, traditional Belfast like The Duke of York and then places to dance on a Friday and Saturday night.
Where can you find the best view of Belfast?
Cavehill is nice; it's a really great walk. Me and my friends walk up there every couple of months and there are beautiful panoramic views of Belfast.
Are there any places you visit outside of Belfast?
We go fishing in Bangor which is only ten miles down the road. You have to get up dead early and travel down and rent a boat with a captain then you and seven or eight of your friends can sit and fish all morning, it's lovely.
Check out the gallery below for a sneak preview behind the scenes at Phil's recent film shoot for HuffPost and Ireland.com. We'll be releasing the video soon, so watch this space.
Popular in the Community