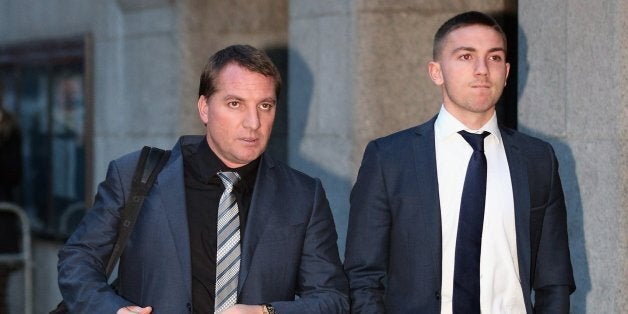 Liverpool manager Brendan Rodgers' son Anton, as well as fellow professional footballers Lewis Dunk, George Barker and Steve Cook were found not guilty at the Old Bailey today of sexually assaulting a teenage girl.
Jurors at the Old Bailey also found them not guilty of voyeurism at a retrial.
Brighton and Hove Albion players Rodgers, 20, Dunk, 21, and Barker, 21, and former team-mate Cook, 22, who now plays for Bournemouth, had maintained their innocence.
They were given bail throughout the trial and their families, including Rodgers' father, watched the proceedings.
The prosecution said the players were celebrating victory in a local cup in July 2011, when they came across the drunken woman at a club.
She woke up at the Jury's Inn hotel to find her strapless dress pulled down and said she saw explicit pictures on Rodgers' mobile phone.
Richard Barton, prosecuting, said these were taken as a "permanent record of their conquest".
But despite forensic tests on all the players' phones, only one photograph was found on Barker's phone.
It showed the sleeping woman with shaving foam spelling out GB on her thigh. Barker was next to her doing a thumbs-up sign and smiling.
Another player, Leon Redwood, said he went into the room at night and sprayed the foam.
Barker and Rodgers said the woman had joined in the "boy's banter". She climbed into bed with them and started kissing them.
Dunk and Cook said they were sleeping on the floor and did not get involved with the woman.
The woman was said to have "told a pack of lies" following the incident.
She agreed she lied to police and her employers but said she had been humiliated by the sportsmen.
She complained to police about the players six months later after getting into a volatile relationship with another player, Kazenga LuaLua.
He wound her up about her photographs being shown around the club and kidded her that a video would be put on YouTube.
Police have been unable to find anyone at the club who had seen pictures of the woman.
The woman admitted an assortment of lies, including:
Missing work earlier that day and ringing in to say her father had been involved in a traffic accident;
Missing work the next day and saying she had been assaulted in the street by three men named Jack, Ben and Sam;
Producing a black dress instead of the pink dress that she had been wearing;
Missing work a month later because she was at Gay Pride celebrations and telling her bosses she had been drugged.
The woman hoped she would be taken out by Redwood on July 16, but started kissing and dancing with another player, Roland Bergkamp, after seeing him with another girl.
She said she was not drunk and could remember nothing after taking a drink in the club.
But her friend said they had each drunk between 10 and 15 shots of alcohol and shared a bottle of wine.
Jurors at an earlier trial in February could not agree verdicts but found Dunk not guilty of voyeurism.
Brighton this week released Rodgers and his team-mate Ben Sampayo, who was a reluctant prosecution witness in the case.
There were tears in the public gallery from the mothers and girlfriends of the footballers as the seven men and five women returned their verdicts.
The young sportsmen were released from the dock and wept in a group hug outside.
Dunk's father Mark said: "I believed 100% that he was innocent and now it has been proved in court.
"I hope he will be able to build up his career again. This sort of thing would have an effect on anybody's career."
Related