Arsenal's English trio Alex Oxlade-Chamberlain, Kieran Gibbs and Carl Jenkinson tested their aerial skills of a different kind by attempting to land an Emirates' A380 at Dubai International.
Oxlade-Chamberlain cruised into a smooth landing before Gibbs was next to take the joystick of the multi-million dollar simulator. The full-back defended his position well, albeit after a somewhat abrupt landing.
But it was Jenkinson who brought real drama to the cockpit. The defender opted for an uncomfortable landing as he bounced the A380 down the runway, sending shudders through the flight deck.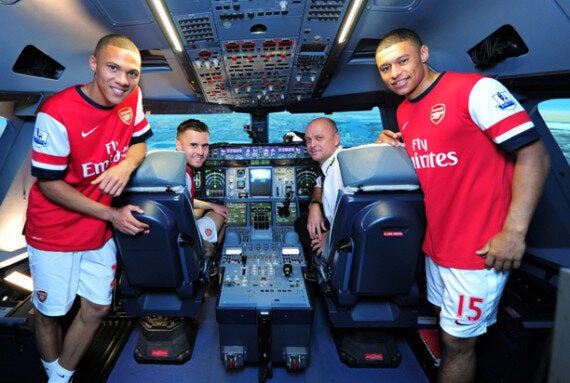 "I was more excited to be honest going in there, but then, when I was actually in the seat, I was yeah quite nervous to be honest," said Jenkinson after emerging from the hi-tech cockpit. "It was a lot more difficult than I anticipated."