England host the Republic of Ireland on Wednesday in what is the first international fixture between the nations since the infamous Lansdowne Road riot of 1995.
Eighteen years ago, the friendly was abandoned when the neo-Nazi organisation Combat 18 wreaked havoc on the terraces, despite the British National Criminal Intelligence Service informing Gardaí police of the group's intentions.
Political tensions and the evening kick-off time made trouble inevitable. Irish supporters jeered "God Save the Queen" and their England counterparts began chanting "Sieg Heil" during the Irish national anthem. The deplorable "No surrender to the IRA" chant was also aired.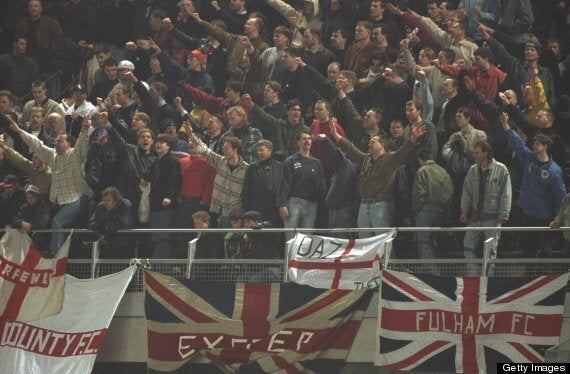 General view of England fans in attendance at Lansdowne Road
David Kelly gave Ireland the lead after 21 minutes and when an England goal was disallowed missiles from the away followers came raining down onto Irish spectators. Eventually, the game was abandoned after 27 minutes due to rioting by England fans when Irish fans spilled onto the pitch to evade the missiles.
Jack Charlton, the revered Ireland manager who played for England in the 1966 World Cup final, was subjected to chants of "Judas" as he left the pitch.
The antics were condemned on both sides of the Irish Sea, and current England coach Roy Hodgson has implored supporters for calm.
"Wembley is considered the world over as the home of football and we ask those attending to not take part in any chanting - particularly of a religious or political perspective - which could cause offence to our visitors or fellow fans," Hodgson said in a letter emailed to supporters.