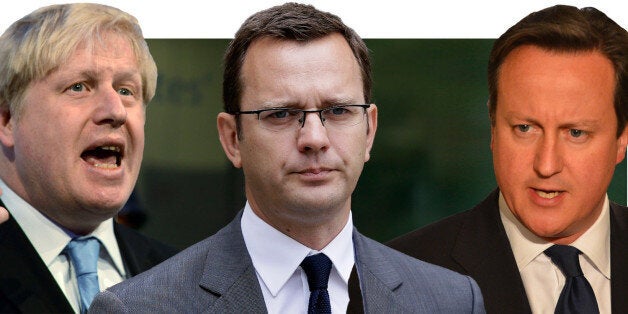 The five things you need to know on Wednesday 29 May 2013...
1) IS BORIS GETTING HIS WISH?
Boris Johnson is desperate to be prime minister but would rather see David Cameron "fail miserably" at the next election than stab him in the back, former government spin doctor Andy Coulson has said. The ex-News Of The World editor said the mayor of London's preferred strategy would be to "ride in on his bike to save party and country" should Cameron and the Conservatives lose the 2015 general election.
"Boris Johnson desperately wants to be prime minister and David has known that fact longer than most," Coulson wrote. "When Boris asked me to pass on the message that he was keen to stand as mayor of London, David responded 'Well, if he wins, he'll want my job next'."
Today's Memo is edited by Ned Simons as Mehdi Hasan is helping set up George Osborne's Star Chamber.
Most voters think the Tories are more divided now than under John Major in the 1990s, according to a poll. And nearly two thirds do not believe David Cameron has the leadership qualities needed to secure a Commons majority at the next general election. The findings, in research by ComRes for The Independent, underline the challenge facing the Prime Minister after months of unrest within his party.
In the past couple of weeks HuffPost UK has carried interviews with two of Major's former press secretaries, Shelia Gunn and Sir Christopher Meyer. Both of whom see worrying parallels between their former boss and the current prime minister's predicament.
The chancellor has decided to reconstitute the government's "star chamber" to help him persuade cabinet colleagues to yield up savings worth £11.5bn for the 2015-16 spending review, The Guardian reports.
"The star chamber is a cabinet committee, whose members will meet to discuss the spending round in broad terms and, if necessary, interrogate individual ministers who refuse to reach an agreement with the Treasury. Officially, the committee is just called PEX (public expenditure), but the Treasury likes to associate it with the secret and sinister Tudor and Stuart star chamber because that adds to its mystique. Insiders claim that the prospect of a star chamber "grilling" does help persuade spending ministers to agree on cuts."
4) MI5 DISMISS SNOOPERS CHARTER
MI5 officers have said that attempts to use last week's terror attack in Woolwich as a reason to push forward with the controversial snooper's charter is a "cheap argument". According to The Independent the security source suggested the Draft Communications Bill "would be of greater use to the police in gathering evidence in the early stages of an investigation than it would be in preventing the type of attack seen in Woolwich".
David Cameron may be having some issues with the London mayor. But that's nothing compared to what is going on in Canada. Toronto Mayor Rob Ford's staff was told days ago about the potential location of an alleged drug video that has threatened his administration, according to a pair of reports published today.
Ford, who turned 44 on Tuesday, has been under fire for more than a week, following reports about an alleged video shown to reporters at the Toronto Star and the U.S. gossip website Gawker. The alleged video reportedly shows the mayor of Toronto smoking what appears to be crack cocaine.
@jameskirkup Philip Hammond, translated: "Cut my budget too far and I'll have to sack more troops. Is that really what you want, Dave?"
@PippaCrerar Andy Coulson doesn't appear to be telling us anything we don't already know about Boris Johnson #nakedambition
Anne McElvoy in The Times: Please, Dave, tell us why you want to be PM.
Mathew Norman in The Independent: So Theresa May and Sayeeda Warsi want to ban the preachers of hate? On the contrary, bring 'em on.
Simon Jenkins in The Guardian: Syria and the Middle East: our greatest miscalculation since the rise of fascism.
Got something you want to share? Please send any stories/tips/quotes/pix/plugs/gossip to Mehdi Hasan (mehdi.hasan@huffingtonpost.com) or Ned Simons (ned.simons@huffingtonpost.com). You can also follow us on Twitter: @mehdirhasan, @nedsimons and @huffpostukpol
Related