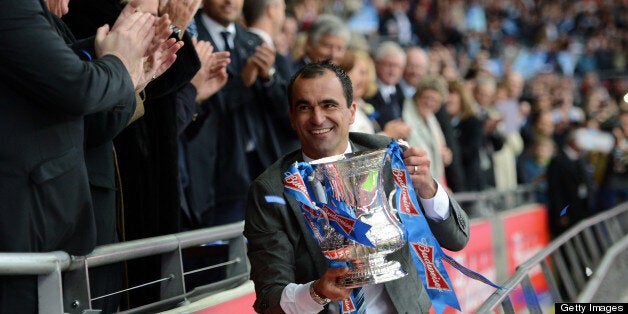 Roberto Martínez will leave relegated Wigan Athletic after four years as manager and will open talks with Everton this week.
The Spaniard, who guided the club to a sensational FA Cup win this month three days before their relegation was confirmed, met chairman Dave Whelan for discussions about his future last week but delayed announcing a decision.
Martínez and Whelan held further talks on Tuesday and the 39-year-old has requested to leave the club.
"Everton asked for permission to speak to Roberto last Thursday," Whelan said. "I told them to wait until I had spoken to Roberto today."
Whelan added he "totally understands" Martínez's decision.
Martínez is on a 12-month rolling contract, which means Everton will have to pay Wigan a fee to hire him as manager.
Wigan eviscerated the Toffees 3-0 in the FA Cup quarter-finals and many Everton fans have cited him as their preferred choice to replace Moyes.
Martínez's positive approach with Wigan differs from Moyes, whose pragmatic style of football often irked the Goodison Park faithful, despite them regularly challenging for a European berth.
Wigan avoided relegation on three consecutive occasions under Martínez - even surviving on the final day in 2011 following a win at Stoke.
However their eight-year spell in the Premier League ended this year as their escapologist act failed, despite a superb FA Cup final performance against Manchester City.
Ben Watson's 89th-minute header secured the club its first major trophy.
Related