After 25 years of making the world-famous Belgian detective his very own, David Suchet will be signing off as Hercule Poirot after his 13th series, which begins in a fortnight on ITV.
In the first of five final adaptations, 'Elephants Can Remember', Poirot is joined by his old friend writer Ariadne Oliver to investigate a pair of parallel cases, with past and present converging.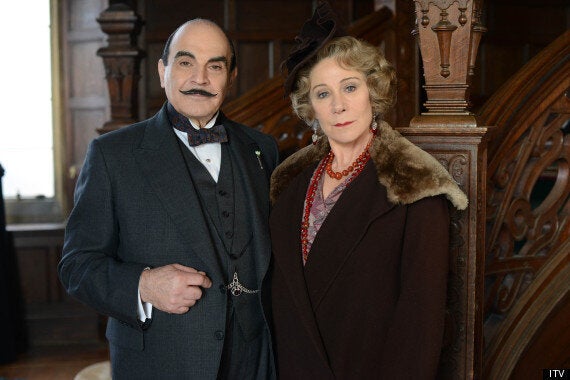 Poirot reunited with his old friend Ariadne Olivier (David Suchet and Zoe Wanamaker)
In the present, however, Poirot has his own problems to deal with - an old acquaintance's father has been found dead at the Institute of Psychiatry, no less.
'Elephants Can Remember' has all the trappings that have made this particular set of adaptations so successful on a global scale - a literary dinner in a cream-coloured house, a tragic past whose secrets remain uncovered, and a Belgian detective with a pince-nez and a liking for citron presse who appears to know everybody with a country house in England, judging by the amount of times he is invited away for a jolly weekend.
Zoe Wanamaker will be reprising her role of Ariadne Olivier in the two-hour special, and other cast members include Greta Scacchi, Iain Glen, Vincent Regan, Ferdinand Kingsley and Vanessa Kirby.
Will you miss Poirot, or has another telly detective captured your affections? Let us know...
'Elephants Can Remember' forms part of the thirteenth and final series for actor David Suchet. Other titles are 'The Big Four', 'Dead Man's Folly', 'The Labours of Hercules' and, just in case we didn't get the message, 'Curtain: Poirot's Last Case'.
Elephants Can Remember is on ITV, 8pm on 9 June. Pictures below...
Related