Paris St Germain have confirmed they will appeal against the nine-month ban handed to sporting director Leonardo for pushing a referee as they branded the French League's punishment "unjustified and extremely harsh".
The Ligue de Football Professionnel's disciplinary committee handed down the penalty for an incident which occurred during the Ligue 1 match at home to Valenciennes on May 5, after meeting yesterday with Leonardo and officials from the match.
The Brazilian was alleged to have barged into referee Alexandre Castro in the tunnel after the game and has been provisionally suspended since.
The LFP confirmed on its official website last night it had now suspended Leonardo for nine months, with the ban keeping him from "the touchline, the referees' dressing room and all official functions".
The French champions were also handed a suspended three-point deduction for next season.
PSG reacted angrily to the punishment, releasing a statement which read: "Paris St Germain takes note of the decision of the LFP disciplinary committee to suspend Leonardo, the team's sporting director, for a nine-month period and to sanction the club by a conditional withdrawal of three points.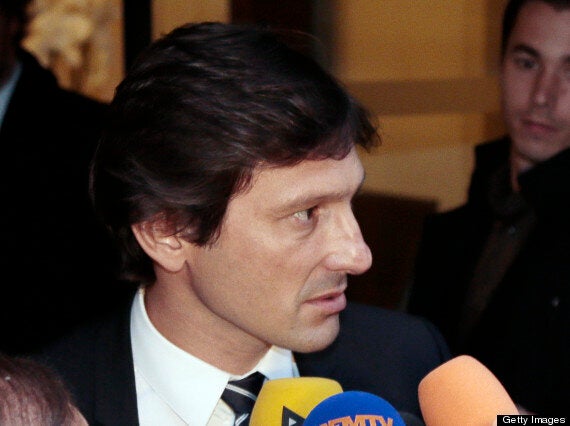 Leonardo's ban could affect Carlo Ancelotti's future
"In the light of the material elements submitted to the members of the disciplinary committee, Paris St Germain considers this decision to be unjustified and extremely harsh. As a result, and in solidarity with their sporting director, Paris St Germain will appeal this decision."
Leonardo had claimed he was pushed into the referee by the principal match delegate Marc-Gerard Biolchini, but the disciplinary committee decided the Brazilian's action was deliberate.
The 43-year-old has been outspoken of his criticism of referees this season and described the sending-off of defender Thiago Silva in the match as "unacceptable".
Leonardo, who won the World Cup as a player with Brazil in 1994, told reporters after his hearing but before finding out the punishment: "I'm happy to have been heard."
The ban, which would rule out the sporting director for most of the coming season, is a further blow to the capital club, who appear to have a fight on their hands to keep hold of coach Carlo Ancelotti.