Flowers spelt out the tribute "Bye-de-Bye" today at the funeral of actor and comedian Paul Shane.
Hundreds of people stood in bright sunshine outside Rotherham Minster as the 'Hi-de-Hi!' star's coffin was carried inside.
Other well known faces from the hit 80s sitcom joined Shane's family behind the pallbearers, including Su Pollard, Jeffrey Holland and Ruth Madoc.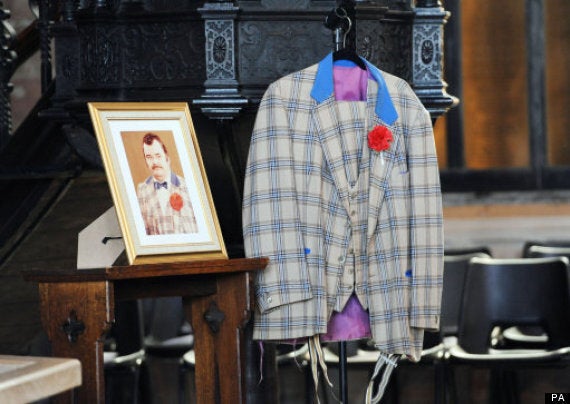 The clothes of Paul Shane's best-loved character Ted Bovis were inside the church
Pollard said to the crowd: "Thanks for coming. He would have been so pleased."
Shane died at the age of 72 following a short illness a fortnight ago.
There was applause in Rotherham town centre after the cortege arrived this afternoon with a police escort.
Yellow and white flowers in the side window of the hearse spelt out "Bye-de-Bye" .
Shane was a coal miner before starting out as a cabaret act touring working men's clubs in the 1960s.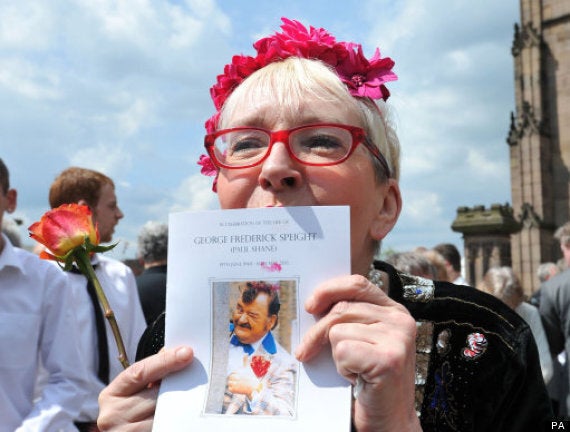 Su Pollard thanked the crowd for coming to farewell her former colleague
As well as 'Hi-di-Hi!', in which he played holiday camp host Ted Bovis, he starred in the TV series 'You Rang M'Lord' and 'Oh, Dr Beeching!'
He also appeared in 'Holby City', 'Doctors', 'Coronation Street' and 'A Touch of Frost'.
He is survived by three daughters and six grandchildren. His wife Dory died in 2001.