Julian Assange is a hero of free speech to some, a traitor and terrorist to others, an attention-seeking control freak to a few more.
Now you can make up your own mind, as Alex Gibney's film 'We Steal Secrets: The Story of Wikileaks" makes its way to screen.
The first UK trailer for the film has just been released - WATCH ABOVE.
The latest penetrating documentary from the Oscar-winning filmmaker of 'Taxi to the Dark Side' and 'Enron: The Smartest Guys in the Room" charts the creation of Assange's controversial website, which enabled the largest breach in US military history.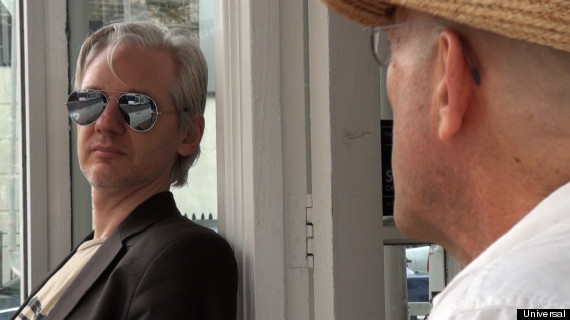 Julian Assange proved an elusive character even to the filmmakers of 'We Steal Secrets: The Story of Wikileaks'
The film looks at the background of the enigmatic Australian, now holed up in London's Ecuadorian Embassy avoiding extradition to Sweden on rape charges, and compares it with that of Bradley Manning, the US soldier who downloaded thousands of classified documents, detailing the behind-the-scenes workings of his government's international diplomacy and military strategy.
Is it possible to despise Julian Assange personally and yet admire what he set out to do? Is he a force for good, or somebody who, as Hillary Clinton described, "tears at the fabric of responsible government"? Whatever you may think of Assange and Manning's efforts, there is no doubt this is a riveting illumination in power, transparency and the search for truth in this modern, technological age.
'We Steal Secrets: The Story of Wikileaks' is in UK cinemas from 12 July. More pictures below...