Victoria Beckham has been named Woman Of The Decade at the Glamour Women of the Year Awards.
The Spice Girl-turned-fashion designer was given the accolade at the glitzy event which was also attended by Kylie Minogue, Jessie J, Rita Ora, Daniel Radcliffe, Mylenne Klass and Amanda Holden.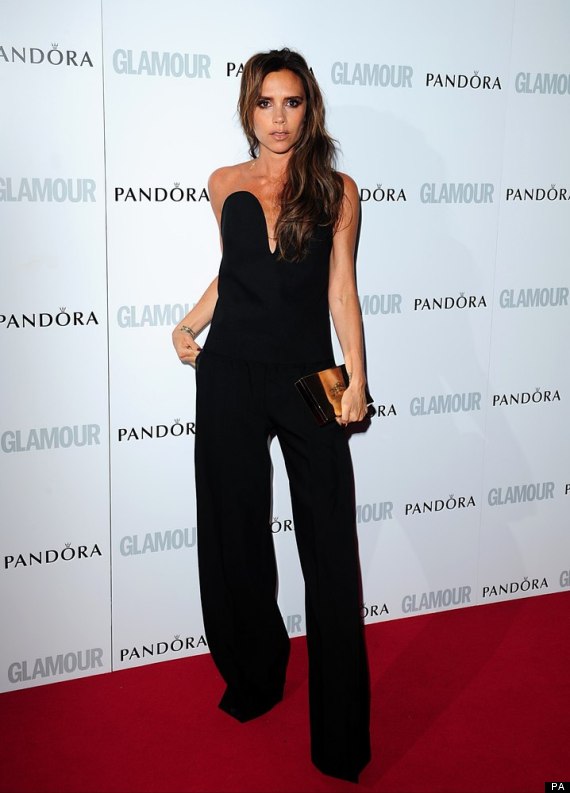 Victoria Beckham
Posh, who looked stunning in an outfit by Martin Margiela, said: "I like to wear my own stuff but celebrate other designers as well."
The star, who recently relocated from LA to London, said: "I love California. I was there last week. We've got the best of both worlds. It's hard to say where home is."
And speaking about the possibility of showing her collections London Fashion Week, she said: "Never say never. I love London. Especially when the sun is out."
When accepting her gong from designer Christopher Bailey, she said: "I love to celebrate women. Girl power. It's great when women support women. We need more women out there supporting women.
"Thank you Brooklyn, my date tonight, who's the most handsome man in the room tonight. That's really pissed off [model] David Gandy."
She added: "Thank you to my husband, who does everything for me, he supports me, he encourages me to follow my dreams and fulfil my passions.
"I've been so blessed to have two careers. I have been so lucky...here's to the next ten years....in ten years I will be nearly 50."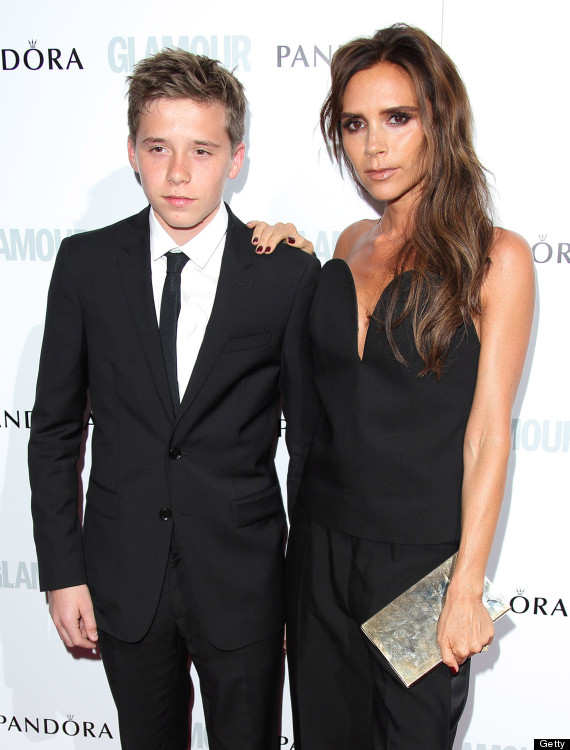 Posh took along her eldest son, Brooklyn, as her date
Posh also showed her naughty sense of humour when she made a racy joke after adjusting the microphone, saying: "Oh I have to raise it. That doesn't happen very often."
Meanwhile, Rita Ora dedicated her gong to her mother "for the incredible energy she brings" after her best friend Cara Delevingne presented her with the award saying "I love you".
Clare Balding used her acceptance speech to celebrate the House of Lords backing gay marriage.
She said: "While here at dinner tonight ...the House of Lords voted 2-1 in favour of supporting the equal marriage bill.... Joan Collins, who was sitting on my table, asked me when me and Alice (Arnold) are going to get married. Alice said in three years, which I didn't know but apparently that's right."
Upon accepting her award, Mylenne Klass said: "As a mum of two girls it's so important that women get a voice and support each other. There's not enough kindness out there."
Referring to the headlines about her offering up her breastmilk, she added: "I'd like to say 'drinks are on me' but... that's probably not the best line."
Winners of the Glamour Women Of The Year Awards (in association with Pandora)

FILM MAKER: Rashida Jones

SOLO ARTIST: Rita Ora

THEATRE ACTRESS: Helen McCrory

SPORTSWOMAN: Nicola Adams

PANDORA BREAKTHROUGH: Samantha Barks

BAND: The Saturdays

WRITER: Miranda Hart

FASHION DESIGNER: Clare Waight Keller

RADIO PERSONALITY: Jameela Jamil

TV PERSONALITY: Nicole Scherzinger (video acceptance)

PRESENTER: Clare Balding

UK TV ACTRESS: Joanne Froggatt

ENTREPRENEUR: Myleene Klass

INTERNATIONAL TV ACTRESS: Zosia Mamet

ACCESSORIES DESIGNER: Emma Hill

EDITOR'S SPECIAL AWARD: Jessie J

MAN OF THE YEAR: Daniel Radcliffe

FILM ACTRESS: Rebel Wilson

WOMAN OF THE DECADE: Victoria Beckham
LIKE US ON FACEBOOK | FOLLOW US ON TWITTER