They've got more money than most people could imagine, but Matt Damon and George Clooney still know how to spot a bargain.
The Hollywood heartthrobs shocked Cambridge locals when they turned up for a free workout at a council-run gym.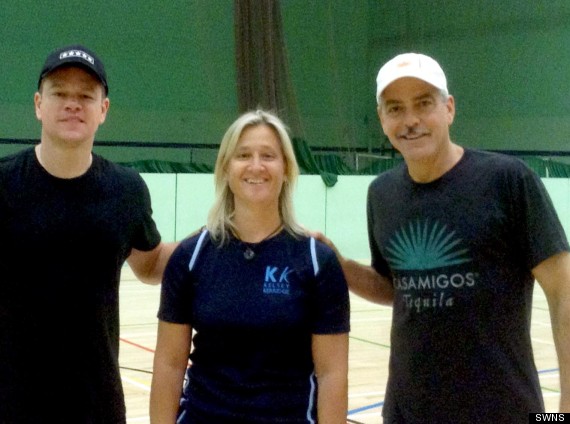 Liane Shadrack, Manager with Matt Damon and George Clooney.
Working up a sweat, the Oscar-winners took advantage of an offer to use the facilities at Kelsey Kerridge Sports Centre for free and played basketball, before posing for pictures for fans.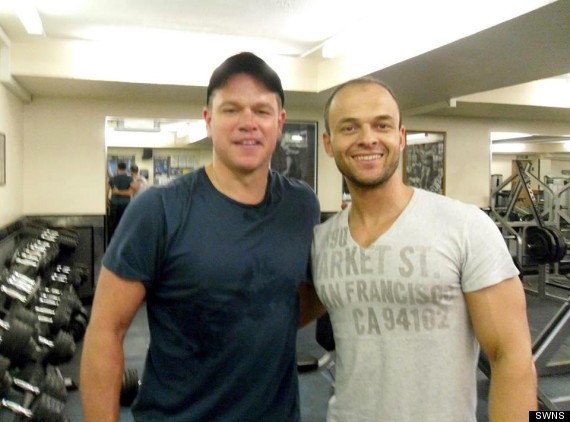 Mustafa Ustamehmetoglu, Gym Manager with Matt Damon.
Clooney and Damon are currently filming scenes at the Imperial War Museum Duxford for World War II film, 'The Monuments Men'.
Liane Shadrack, Kelsey Kerridge gym manager, told the BBC Damon booked the basketball court for Sunday lunchtime: "They shot a few hoops but I did feel a bit bad throwing them out after their hour was up."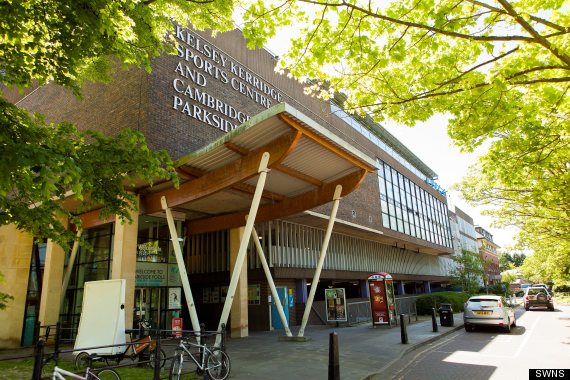 Exterior GV showing of the Kelsey Kerridge Sports Centre in Cambridge used by Hollywood actor, Matt Damon and George Clooney.
'Bourne Identity' star Damon, also did an hour-long weights session on Saturday night.
Shadrack added: "They were very nice, such lovely people, and they posed for some pictures and chatted with people, but they didn't say anything about the film they were making." Hugh Bonneville, George Clooney, John Goodman and Matt Damon shoot scenes for 'The Monuments Men' at Duxford Museum
Meanwhile, the cast and crew of Clooney's war biopic, including 'Downton Abbey's' Hugh Bonneville, were snapped filming on an air base just outside of Cambridge.
And over the weekend the stars also filmed scenes in the Buckinghamshire village of Fingest, where Damon was seen acting alongside 'The Artist's' Jean Dujardin.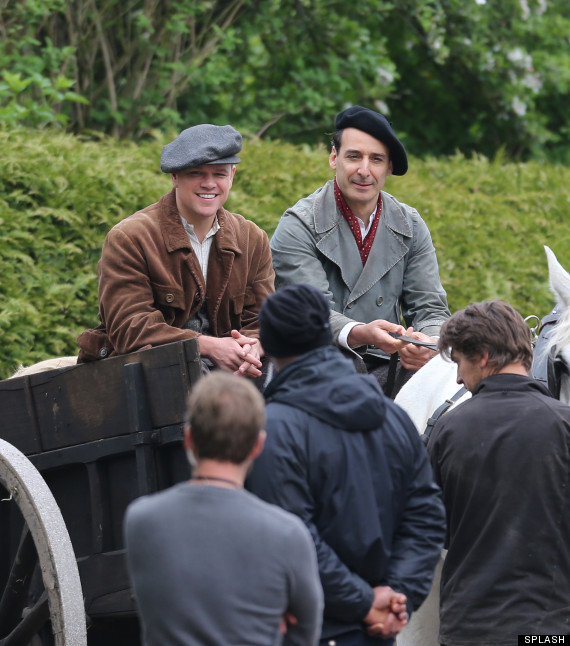 George Clooney, Matt Damon and Jean Dujardin shoot scenes for 'The Monuments Men'
The period drama is written, produced and directed by Clooney and based on the book Monuments Men: Allied Heroes, Nazi Thieves and the Greatest Treasure Hunt in History by Robert M. Edsel.
Director Clooney also has his turn in front of the camera alongside Cate Blanchett and John Goodman.
Check out 11 more random celeb sightings in the UK below: