Why is Stuart Pearce still the England Under-21s' coach? He is coaching the youngsters for the fourth time at a European Championship having won three games in the previous three biennial tournaments inside 90 minutes. The Football Association can build 100 St George's Parks and preach about the Elite Player Performance Plan's aspirations on a daily basis but the buck still stops with the manager.
On Wednesday night a Pearce team couldn't pass, couldn't score and couldn't win again. England's 1-0 loss to Italy was as deserved as it was inevitable. They had a goal bizarrely disallowed and were missing Thomas Ince, Wilfried Zaha and Callum McManaman - three players who would enliven a turgid team - but the sheer lack of positivity was again disheartening and again it was Pearce at the helm.
Pearce reached the semi-finals in 2007 and the final in 2009 with the Under-21s yet these are not achievements at a developing level.
Emergence from the group stage at the tournament results in a semi-final spot, which immediately dilutes the prestige of a last four berth. On both occasions England were taken to penalties by Holland and Sweden, losing a marathon shootout to the former and edging past the latter. Pearce's tenure as England Under-21s coach has been too long
After success against the Swedes in 2009 England faced a Germany team boasting Manuel Neuer, Jerome Boateng, Mats Hummels, Sami Khedira and Mesut Özil. They were predictably obliterated 4-0 before their demoralising 2011 showing, when they failed to win of their three fixtures.
It is testament to Pearce's ineptitude he managed that 2011 feat. Chris Smalling, Phil Jones, Tom Cleverley, Jordan Henderson, Jack Rodwell, Danny Welbeck and Daniel Sturridge played in one of the strongest squads of the Three Lions' feeder outfit yet were a throwback to the dark ages of Charles Hughes, trapping a ball farther than they could kick it and treating it like a hot potato in an uncanny homage to the national team. It was the tournament of Michael Mancienne.
Sven-Göran Eriksson struggled to get sacked by England. He flirted with Manchester United and got a pay rise. He failed at tournaments and got a pay rise. He slept with an FA secretary and got a pay rise. Pearce's future will be discussed after the Euros but his longevity suggests maybe he will have to arrange a rendezvous with a suspicious Sheikh.
Inexplicably Pearce was actually offered a new contract after the 2011 failure. This was illogically FA, like giving Fabio Capello a rise before the 2010 World Cup.
Winning is not the priority at a junior level, it is the development. As important as that mentality is it should not be compromised for the collective good, which is an aspect apparently lost on Pearce.
Pearce suffers from the stigma of being so English he could be a poster boy for the EDL. An uncompromising and psychotic defender, like Kenny Dalglish he appears caught in a time-warp when England should be about a ball-retaining, not bulldog, spirit.
Glenn Hoddle was in the Sky Sports studio for England's defeat when he should be on the touchline. He despaired over England's tactics.
"We struggled to pass the ball all night until perhaps the last 10 minutes... I was disappointed with how we played long, we played too many long balls - we had no options on the ball," he lamented. Pearce actually labelled England "awful".
Putting his acrimonious end as England coach to one side, Hoddle is one of the best coaches the national team has had in recent memory and the Three Lions were rarely uninspiring during his two-and-a-half-years. He is also an unheralded figure in Paul Scholes' emergence.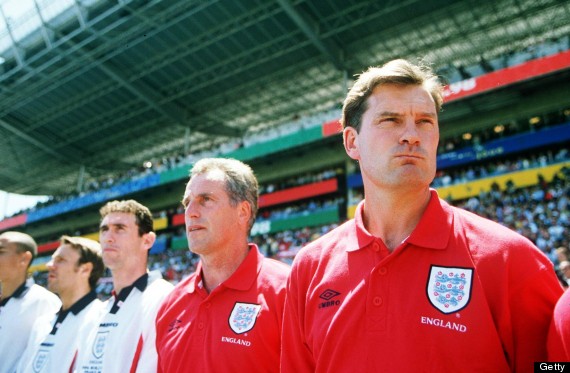 Hoddle coached England at the 1998 World Cup
Scholes had already played 69 times for United but had become a peripheral figure in the 1996-97 season. Nicky Butt was making headway while Karel Poborsky and Jordi Cruyff had arrived along with Ronny Johnsen, who carved out an impressive niche for himself in midfield. Roy Keane was beset by injuries but a certain starter when fit.
Yet Hoddle selected him for England and less than a fortnight after the 22-year-old's international debut against South Africa Scholes scored one and made another in the 2-0 Le Tournoi win against Italy, exhibiting a continental vision with the assist and smashing a characteristic drive past Angelo Peruzzi. David Beckham, Rio Ferdinand and Michael Owen all made their England debuts under Hoddle also.
Hoddle hasn't managed since he resigned as Wolves boss in 2006 but did commendable work with his academy between 2008 and 2013, focusing on the individual development of players rejected by clubs, a quality suitable for England's Under-21 members.
It seems unfeasible Hoddle and the FA will reunite 14 years after he was sacked for comments about the disabled, and others, being punished for sins in a former life, but England require a positive thinker like Hoddle, who treasured the ball as a player. Pearce tried to maim it.